What Was River Phoenix And Keanu Reeves Relationship Like
08/03/2021
Please note: This article contains references to alcohol and drug use and child abuse. 
River Phoenix and Keanu Reeves' relationship was one of the greatest of it's time, and the friendship began in a pretty unconventional way: Reeves was "sucking face" on a regular basis with Phoenix's girlfriend, Martha Plimpton, as Phoenix told Interview magazine. Luckily, it was all in the name of acting for the 1989 comedy-drama "Parenthood," where the two stars depicted a young teenage couple dealing with the pressures of young marriage and pregnancy. Starring in "Parenthood" alongside Reeves and Plimpton was a young Joaquin Phoenix, and the three actors hit it off together on set. Naturally, this soon led to River and Reeves enjoying the first blossoming moments of their own friendship too. 
As River recounted to Interview Magazine, the two friends shared a natural, easy bond from the get-go. He shared, "I met up with him on 'I Love You to Death.' And I liked the guy. I wanted to work with him. He's like my older brother." The two quickly and easily began a relationship which satisfied the two young stars on an emotional and creative level. "Meeting River was a revelation," Reeves told People in 2019. "As a person and an artist." 
From the outside, Reeves and Phoenix were teen idols with aspirations not usually seen in such stars, and their friendship was part of that package. But what was Phoenix and Reeves' relationship really like? 
A friendship to inspire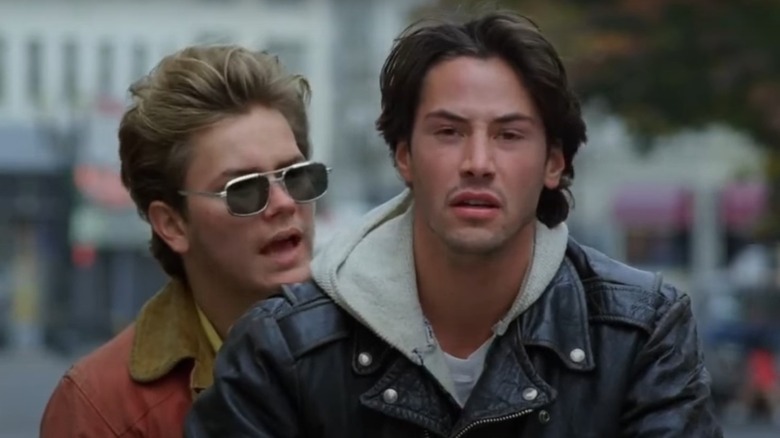 As young artists looking to push their careers well beyond the claustrophobic confines of Tiger Beat centerfolds and "Hollywood's dreamiest dudes" lists, River Phoenix and Keanu Reeves inspired each other into new ways of thinking and working. The two seemed to thrive off one another's energy, and they both appeared to have a big impact on each other. Speaking to "Smash Hits" in 1991, Reeves explained how his friendship with Phoenix pushed him into new creative processes. "I think he's the best," he said, "He asks questions that I don't normally think about sometimes. He works in a way that, at least for me, showed me how to get it more in my blood and more imaginative." 
Though the two had worked together on the 1990 black comedy "I Love You to Death," they were able to put their creative kinship to good use when they starred alongside one another in Gus Van Sant's groundbreaking indie film "My Own Private Idaho." Starring as a pair of street hustlers on an emotional pilgrimage to find one of their moms, Phoenix and Reeves found themselves facing new challenges as artists. Including doing some "extracurricular" research with real-life hustlers on the streets of Portland, just so that they had "all the bases covered" in their performances as their characters, as Phoenix told Interview. The two actors dabbled with method acting in their respective roles, and supported each other as they did so. 
River Phoenix and Keanu Reeves brought out the best in each other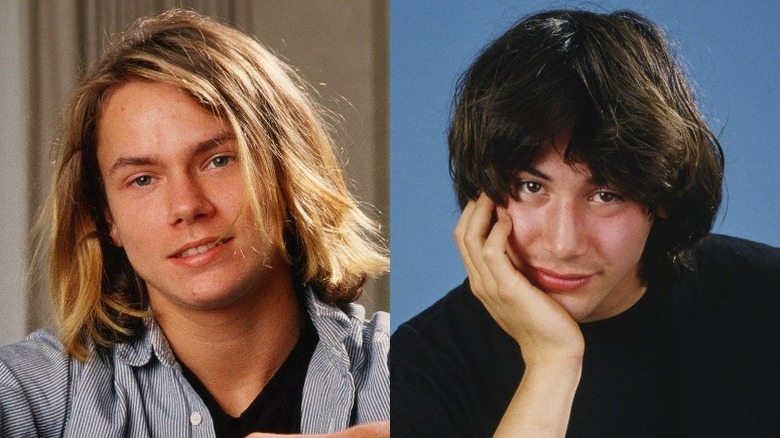 The experience of making "My Own Private Idaho" solidified River Phoenix and Keanu Reeves' bond and proved that their friendship was one that could catalyze their artistic pursuits and goals. "Keanu and I made a kind of blood pact on 'Idaho,'" Phoenix explained to Girlfriend magazine (via Aleka.org), "I can't imagine who else I could have done it with." Apparently, Reeves felt the exact same way. According to Gavin Edwards' book "Last Night at the Viper Room: River Phoenix and the Hollywood He Left Behind" (via Grantland), the actor rode his motorcycle more than 1,000 miles with the "My Own Private Idaho" treatment in hand, in a desperate bid to convince his friend to do the film alongside him.
Gus Van Sant suggested that the two actors "probably felt the risk" of making the movie. After all, Phoenix's own agent "had refused to pass" the opportunity to the young star in the first place because the homosexual sex work element of the film was so "taboo in mainstream" movies (via Grantland). 
In later interviews, however, Phoenix suggested that Reeves "was lying" about being the one to accept the part first and to convince his bestie to join him. "We were doing 'I Love You to Death,' and we both got the 'Idaho' script," Phoenix told Interview. "We were excited. … We said 'Ok, I'll do it if you do it. I won't do it if you don't.' We shook hands. That was it."
Sharing the pain of troubled childhoods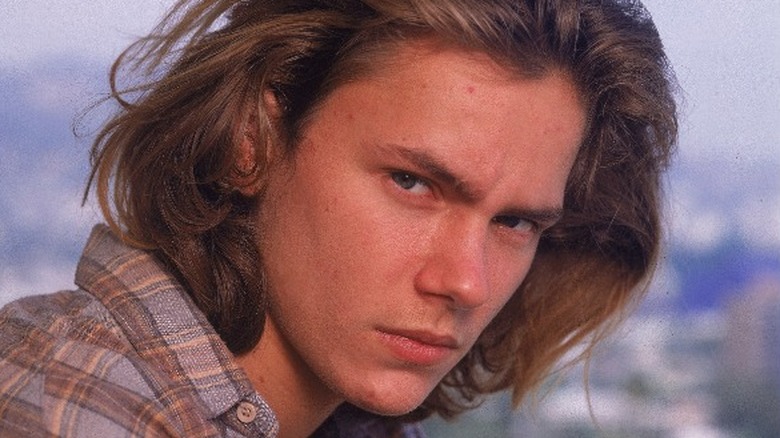 River Phoenix's parents joined the controversial religious cult Children of God, where they remained for a few years. The family eventually left due to differences with leader David Brandt Berg, according to Esquire (via Aleka). The magazine also reported that Phoenix's father "had problems with alcohol," something that the teen idol struggled with growing up. 
Though he was never brought up in a cult, Keanu Reeves could likely relate to growing up in an atmosphere of upheaval with a tenuous father situation. As reported by The Guardian, Reeves' dad left when the future actor was 3 years old, and Reeves' father was fully out of the picture by the time he turned 13. Reeves told the publication that the experience of losing a parent in this manner and at such a young age was "definitely traumatizing." As he grew, Reeves had different stepfathers and his father was convicted for selling heroin. He didn't "reach back out" to him again.
The two experienced different types of adolescent trauma, but nonetheless seemed to bond over their harried childhoods. So much so that their experiences were consciously poured into one of the most moving scenes in "My Own Private Idaho," in which Phoenix and Reeves' characters casually chat about their difficult childhoods next to a campfire. When asked whether their respective backgrounds "drew them together," Keanu confirmed to The Guardian, "Certainly our histories played a role in that movie and in that scene."
If you or anyone you know is struggling with addiction issues, help is available. Visit the Substance Abuse and Mental Health Services Administration website or contact SAMHSA's National Helpline at 1-800-662-HELP (4357).
Collaborations deepened their bond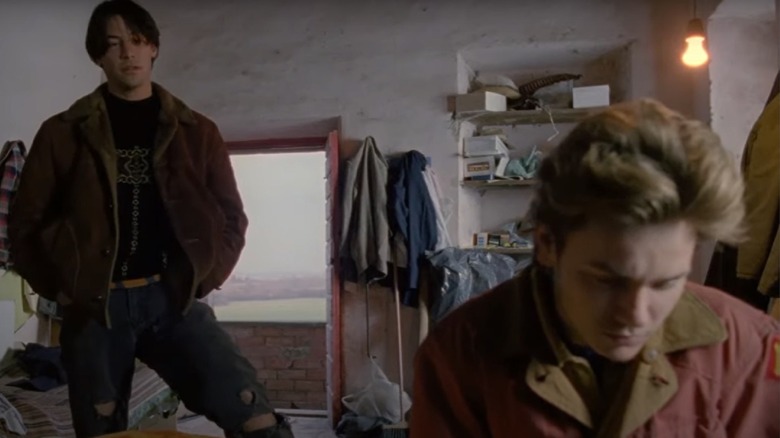 By all accounts, "My Own Private Idaho" was a way for River Phoenix and Keanu Reeves to deepen their friendship. "Getting deeper into it, we discovered a lot about our relationship within the film," Phoenix told Interview of the experience of starring opposite his close friend. 
And while the confessional campfire scene in "My Own Private Idaho" came from the respective childhood experiences of the actors, Phoenix explained that the scene also pulled them closer as pals. "By the time we were ready to shoot the last scene in the States, we had enough insight to go a hell of a lot deeper than the script [even] told us it would," Phoenix said, noting, "There was a lot of deep love [in the film]."
Their process for getting authentically into character as the film's street hustlers also gave them an opportunity to delve into method techniques together. The strong brotherly bond the two shared meant they fit in well among the actual street kids because, as Phoenix put it, "it's a brotherhood on the street, man. You all watch for each other's backs." Clearly, they also enjoyed a Hollywood brotherhood of a similar nature, too. 
River Phoenix and Keanu Reeves vs. celebrity status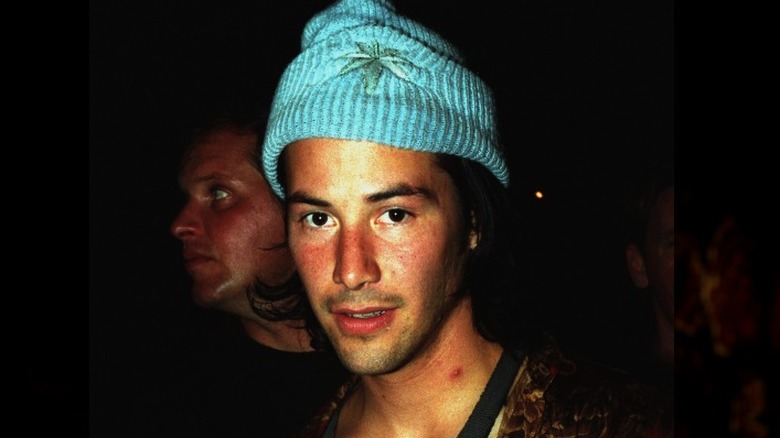 During the era of their friendship, it wasn't remiss for dismayed reporters to pass comment on the similar anti-Hollywood uniform worn by the two stars, and it's easy to imagine them feeling like they were rebelling against Hollywood's rulebook together. As described by Empire, the two often sported "tattered jeans, a dishevelled jacket, and three-day stubble."
Both also became known for being generally weird, private, or even defensively abrasive during interviews — hardly shocking when the two stars were so open about their dislike of the "fame" side of the industry. Reeves once told the Los Angeles Times, "I don't want to be super-famous, man; that would be awful," while Phoenix once proudly mused that "My Own Private Idaho" would "get me off the cover of Tiger Beat," according to "Last Night at the Viper Room: River Phoenix and the Hollywood He Left Behind" (via Grantland). 
As recalled by Joaquin Phoenix, his brother was so sick of the more tedious aspects of promotion that he constantly found ways to mess with interviews. A notorious anecdote River told interviewers, such as those for Details magazine, was that he lost his virginity at age 4 but "blocked it out" (via Aleka). As Joaquin suggested to Vanity Fair, this was "a complete and total joke." He explained, "It was just f***ing with the press. … because he was so tired of being asked ridiculous questions."
If you or someone you know may be the victim of child abuse, please contact the Childhelp National Child Abuse Hotline at 1-800-4-A-Child (1-800-422-4453) or contact their live chat services.
An anti-Hollywood bromance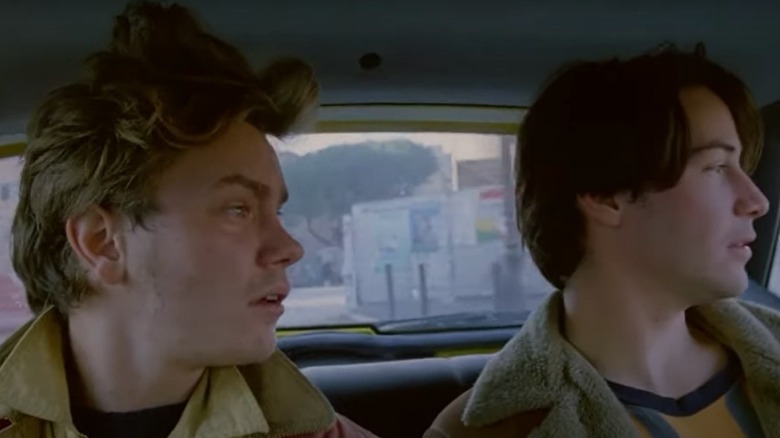 Look back on just about any interview with River Phoenix or Keanu Reeves from the time of "My Own Private Idaho" and you'll see the immense concern that journalists seemed to have that two of "Hollywood's hunkiest heart-throbs" might destroy their careers by depicting gay hustlers. One especially judgmental piece by Empire magazine about the two stars asked whether anyone advised them "that the most astute career decision for a major young movie star may not be to play, well, a rent boy?" Phoenix was not impressed and responded, "I decide my projects not based on any big strategy or how Hollywood or the critics will see me."
Wanting to push culture forward in meaningful ways — and to hell with everyone who disagrees — was a value the two shared. Later in the same interview, for instance, the two passionately discussed the importance of depicting characters that the gay community could "identify with" on screen, even if "My Own Private Idaho" might not "necessarily represent the gay community." As Phoenix put it, "It might take a few of these films before there's, like, a natural stride with the whole issue and then maybe one day it won't even be an issue, which is what I'm hoping."
Both Phoenix and Reeves had no interest in playing up to what Hollywood wanted them to be. Instead, they were invested in contributing to significant positive change: for themselves and for the world.
They both wanted to use their fame for good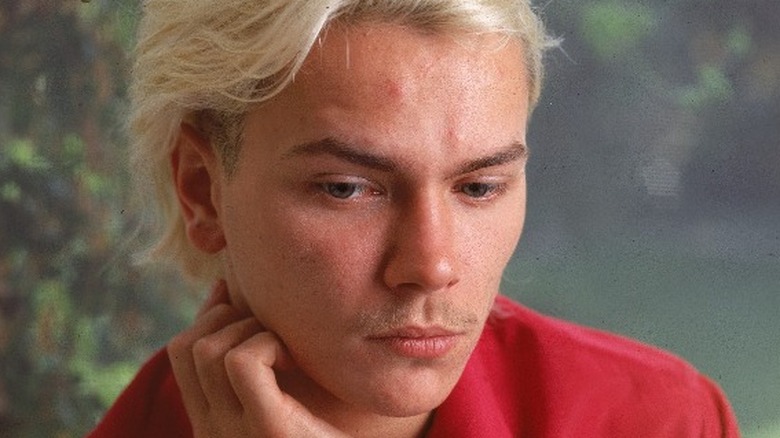 Neither River Phoenix nor Keanu Reeves seemed all too eager to assimilate to the roles Hollywood was offering to them. Phoenix once told Details Magazine (via Aleka), "Fame is what gets people to go watch your film … but I'd rather be a ghost writer than have my name down." Fame was a necessary evil, and one that both actors realized they could use to their advantage in supremely positive ways. It's easy to imagine them ranting about social ills together and figuring out tangible ways that they could use their platform to covertly affect change.
Speaking to The Face (via Aleka), Phoenix admitted that he had plans to use his platform for the better. "If I have some celebrity, I hope I can use it to make a difference," he said. "The true social reward is that I can speak my mind and share my thoughts about the environment and civilization itself."
In the same interview, Phoenix also suggested that he had something in mind already for his future and stated that his "big dream" involved creating a safe space community for vulnerable young people. He explained that eventually he wanted "to buy a portion of land and bring all sorts of homeless kids and kids from foster homes or kids who have been in and out of mental institutions because of their weird ideas to live there."
Keanu Reeves has carried on this legacy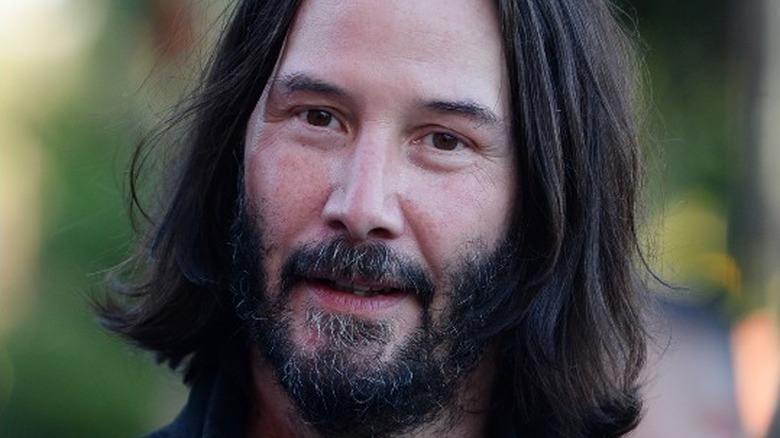 Keanu Reeves has a well-earned reputation for being one of the kindest people in Hollywood. Everyone loves Keanu Reeves. Fans have shared acts of kindness they've experienced from the actor on Reddit, and there's also the various ways he generously shares his wealth — and often without publicity.
According to The Wall Street Journal, Reeves funneled a percentage of his pay from the "Matrix" sequels into supporting the hardworking costume design and special effects team, and when he completed filming on "The Matrix Reloaded" he gifted each stunt performer a Harley Davidson after seven grueling weeks of a challenging physical schedule on-set (via Seattle PI). He's also admitted that he's been running a foundation to "aid a couple of children's hospitals and cancer research" but that he does so anonymously. "I don't like to attach my name to it," he once said, according to The Mirror. "I just let the foundation do what it does."
Though Reeves is a little less public about his desire to use his platform for good deeds than River Phoenix was back in the '90s, the actor has since become fondly notorious for it — albeit, in the most modest way imaginable. Is it possible that Reeves felt more compelled to continue a legacy of kindness, generosity, and philanthropy following the death of his late friend?
Music was a shared fascination for River Phoenix and Keanu Reeves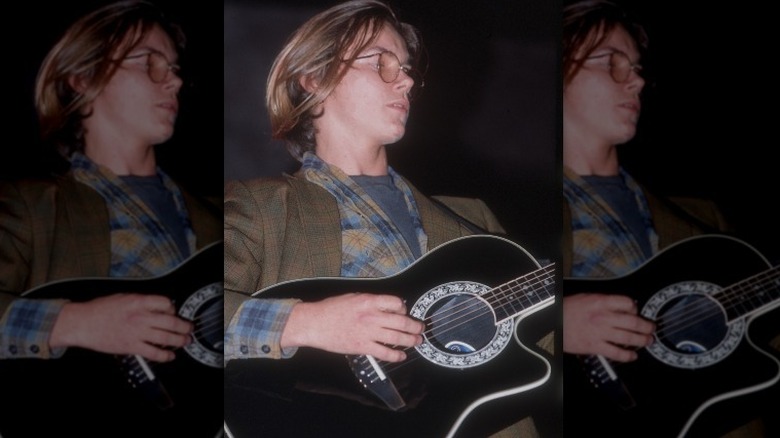 All anti-Hollywood behavior and do-goodery aside, River Phoenix and Keanu Reeves were also just a couple of regular, everyday dudes who shared a great affection for music. Phoenix founded the band Aleka's Attic in 1987 and was the lead guitarist and vocalist, meanwhile Reeves was one of the founding members of Dogstar, for whom he was the bassist and backing singer. Though, as he joked during an interview with Details Magazine, his skills perhaps weren't the best. "I'm the worst bass player in the whole world," he said. "I have no rhythm."
During filming of "My Own Private Idaho," the two stars stayed at director Gus Van Sant's house where they enjoyed some musical revelry. As told in "Last Night at the Viper Room: River Phoenix and the Hollywood He Left Behind" (via Grantland), it wasn't long before some of the men from the movie had also moved into the space, including Flea of the Red Hot Chili Peppers. Van Sant's abode was promptly turned "into a crash pad littered with futons and musical instruments" and everyone would "play these amazing jams that would last for three hours without stopping," according to Mike Parker — a hustler friend of the filmmaker who inspired Phoenix's character in the film.
Did the two share a fondness for drug experimentation?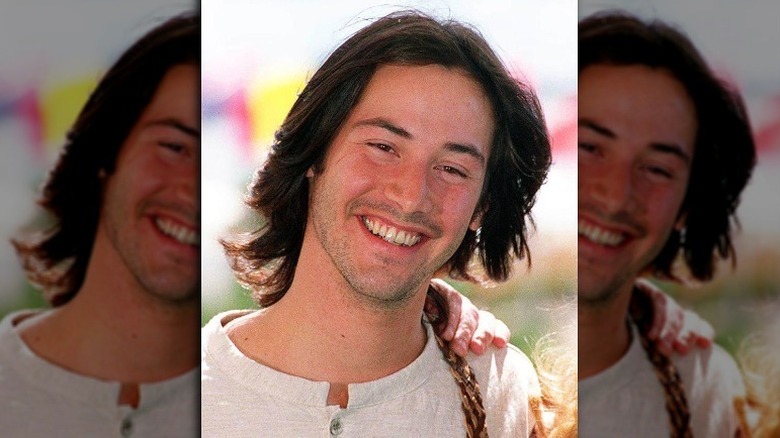 Though River Phoenix didn't openly talk about his drug use in interviews, an Esquire report published after his death suggested that "his drug use came in spurts" but that "he was often clean," too. As two young men who were clearly open to experiencing whatever the world had in store for them and for pushing boundaries to broaden perspectives, is it possible that the two may have also explored recreational drug use together?
Reeves has maintained that he avoided the harder path of drugs that Phoenix fell foul to as he "just wasn't into that scene" (via The Guardian). However, he's always been open about his recreational drug use and his careful use of them to expand his outlook on existence. In 2001, Reeves reflected to Vanity Fair that he no longer had anything he considered to be a vice but that he also had no regrets about using drugs earlier in life. He called the experiences "wonderful" and that he gained a lot from them: "Personal epiphanies. About life. About a different perspective" (via The Guardian). 
Phoenix may have sadly taken a different pathway to drug use than Reeves, but the two nonetheless seemed to share a curiosity for existence that may have at times been answered by drug experimentation.
If you or anyone you know is struggling with addiction issues, help is available. Visit the Substance Abuse and Mental Health Services Administration website or contact SAMHSA's National Helpline at 1-800-662-HELP (4357).
A lost friend and a new perspective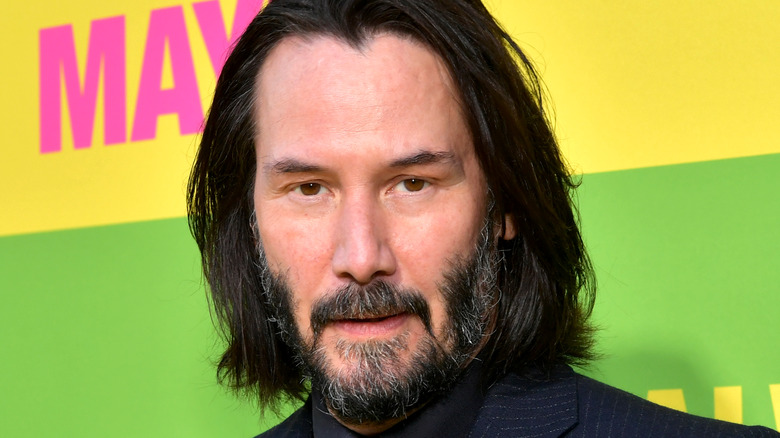 Keanu Reeves learned about the death of River Phoenix while shooting the movie "Speed," and as 7 Jours reported in 1994, the tragedy gave the actor an understandable "shock and a major scare." When asked about the death of his best friend, Reeves said, "I miss him a lot," but shared an impressively wise perspective on it. "The dangers of drugs are relative and the importance of a spiritual life is very great," he said. "The world is tough, you know. I have had the opportunity to travel and meet extraordinary people. I try to keep this within me."
Reeves and Phoenix were both unique stars during their early '90s heyday, and their friendship should rightfully also be celebrated as one of a kind too. Clearly, this is also how Reeves continues to remember the time with his best friend. During an interview with Rolling Stone in 2000, Reeves reflected on his relationship with Phoenix and his statements form the perfect footnote in encapsulating their bond. "I enjoyed his company. Very much," he said. "And enjoyed his mind and his spirit and his soul. We brought good out in each other. He was a real original thinker. He was not the status quo. In anything." 
Source: Read Full Article