We Finally Got Our First Look at the 'Game of Thrones' Prequel 'House of the Dragon'
10/05/2021
LADIES AND GENTLEMEN. Major, major news. One of the 123,134,809 Game of Thrones prequels being tossed around HBO just got a 10-episode order, the network confirmed back in 2019, which means we're all heading back to Westeros. Thank god!
Here's everything we know about the series, called House of the Dragon.
Wait, wasn't there another Game of Thrones prequel happening?
Yes. When HBO decided to end Thrones, the powers that be started working on a bunch of different spin-off and prequel ideas. At one point, there were reportedly seven different shows in development.
The one you're probably thinking of right now (with Naomi Watts) was maybe going to be called Blood Moon. It had shot a pilot and everything. That story took place, like, a thousand years before the events of Thrones. The network announced back in 2019 that that show is officially not happening. A major bummer.
So, is House of the Dragon the only GoT spin-off we're gonna get?
Probably not, honestly. Remember that HBO's main goal here is to make money, which means it will probably milk this Thrones thing for all it possibly can. The show was an absolute cash cow for HBO.
Okay, got it, so what's House of the Dragon about?
As you probably guessed from the title, it's about House Targaryen. It's based on George R. R. Martin's book about the family, Fire & Blood, which came out last year. Here's the summary of the book:
That should give you an indication of what the show will be about.
Do we have any other info about the plot?
No, but we have this sick poster.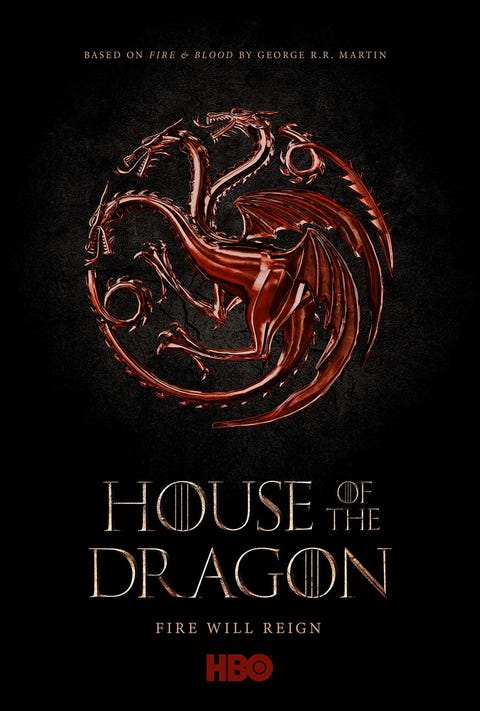 And HBO finally graced us with a teaser trailer that will absolutely make you freak out.
Source: Read Full Article