The Truth About Lisa Rinna And Heather Locklears Friendship
07/31/2021
Lisa Rinna dropped Heather Locklear's name during the "Real Housewives of Beverly Hills" Season 10 reunion in September 2020. At the "RHOBH" reunion (per Too Fab), Lisa brought up Locklear's friendship with Denise Richards, causing all kinds of drama. Denise and Locklear were friends, then had a fallout in 2006, and the on-air conversation seemed to make Richards uncomfortable. Denise responded to Lisa (via Too Fab), "I actually wasn't [friends with Locklear], Lisa, and you know that. To bring that up, really? She was friends with my ex-husband, come on. Now you're grasping at straws."
Denise may have been upset because her feud with Locklear was pretty messy. In 2006, the two friends were both getting divorced. Denise was getting divorced from Charlie Sheen, while Locklear was splitting from Bon Jovi rocker Richie Sambora. According to Monsters and Critics, Denise and Sambora started dating, but after getting backlash for dating her friend's ex-husband, Denise said that she was never friends with Locklear. Monsters and Critics reported that fellow "RHOBH" star Brandi Glanville revealed that Locklear sent her a message, thankful that Denise was supposedly exposed on the show.
After the "Real Housewives" drama, some fans are want to know the truth about Lisa and Locklear's friendship. Keep reading to find out more!
Lisa Rinna and Heather Locklear worked together on Melrose Place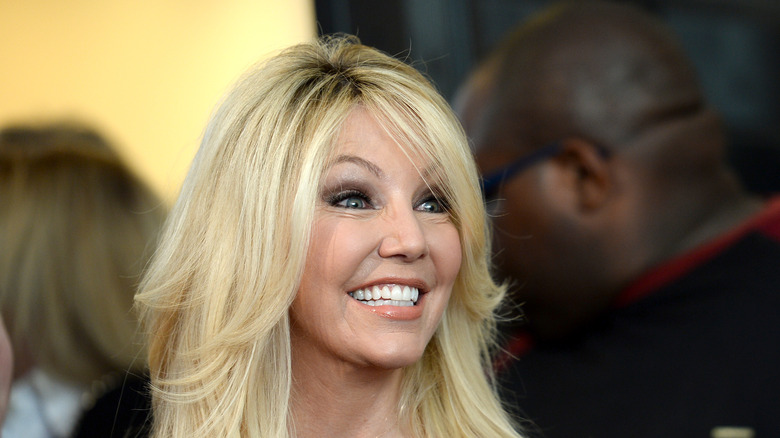 Lisa Rinna and Heather Locklear worked together on the '90s hit "Melrose Place." In July 2021, Lisa talked to People's "People in the '90s" podcast about working with Locklear and how the "Melrose Place" star helped her when she joined the series in 1996. Lisa revealed on "People in the '90s" that when she joined "Melrose Place," she was "scared s***less," but Locklear helped her. 
"It's never fun to be the new girl coming into a very popular, established show," Lisa said. "But starting from the top, Heather Locklear could not have been nicer and more welcoming, which then sets the tone. I always felt very welcomed there…and that's all due to Heather." The "Real Housewives of Beverly Hills" star said that while she and Locklear never became close friends offscreen, she learned a lot from Locklear during that time.
Lisa said, "Heather and I had a great relationship, and she just was such a star. I learned so much from Heather Locklear, probably more than anybody."
Source: Read Full Article