The Great British Baking Show Is Back to Soothe Us All With Creepy Cake Busts
09/25/2020
The premiere of The Great British Baking Show 2020 featured one of the best and most joyful challenges this show has ever produced, and for that we are grateful.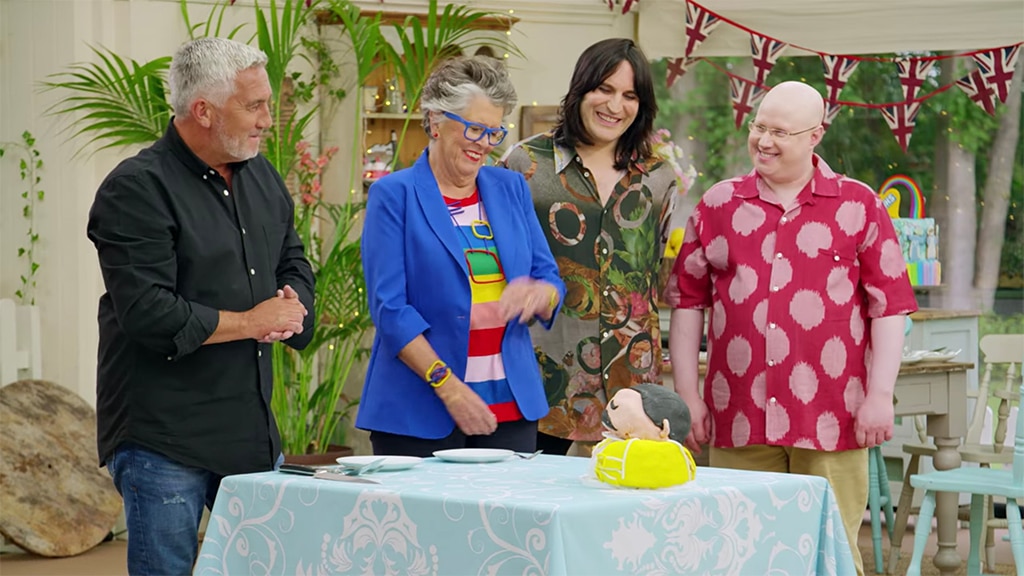 The world may currently feel burnt, dry, and soggy-bottomed, but bakers, the tent is open. 
The Great British Baking Show has returned for another season and we in the U.S. only have to wait three days after episodes premiere in the U.K. before we get to watch them on Netflix. It's excellent news for us all, because sometimes there is nothing in the world more comforting than watching a bunch of frazzled bakers compete for a handshake from a man with the real name of Paul Hollywood. 
A couple things had to change for 2020, thanks to the coronavirus pandemic. Instead of going home during the week in between filming each episode, the bakers lived in a "Bake Off Bubble" for seven weeks, adding a whole extra element to the competition since they're isolated from their families. Matt Lucas also joined the show as a new co-host, replacing Sandi Toksvig, and so far he's fitting right in.
Even with a few changes, the show remains the same comforting slice of happiness it's always been…except for one thing. 
The first two challenges of the season premiere were fairly typical. Bakers had to make a patterned cake covered in marzipan, and then perfect a batch of mini pineapple upside down cakes in the technical challenge. Things got dramatic when four of Dave's cakes ended up on the floor while Sura was trying to swat a fly, but the judges were perfectly understanding. 
Then, they announced the showstopper challenge. 
Matt and Noel informed the bakers that they had to make a "cake bust" of their personal celebrity hero. The bust had to have a head and had to be mostly made of cake with other edible details, and there was nothing about this that did not promise absolute joy. While the choices of celebrities were mostly VERY British, the challenge delivered. 
The end result even proved that maybe the bakers on Nailed It aren't quite as bad as we were led to believe, because even some of the best bakers in the UK couldn't pull off cake versions of famous people. It was just a wonderful time, and it's time to take a look at the best, the worst, and just the absolute funniest attempts from the episode. 
It's the beard texture and the eyebrows for us. 
There is an essence of Blink-182 singer Tom Delonge in Dave's cake, but we're not sure we'd get it on the first try. Delonge reacted to the cake on Instagram. "When I was younger, and needed the money, I did a few hundred adult films," he wrote. "This looks EXACTLY like me at the time. EXACTLY. #Cake" 
"It's obviously Bill Bryson," said Prue. Obviously. Bryson is a travel and science author who probably could have looked pretty good as a cake if Mak had had time to finish the coloring. As it is, he deserves better. 
There's a hint of Charles Darwin here but he looks like he's made out of clay, not cake. He also seems to have lost all traces of his neck. 
Hermine did a really fantastic job with Lupita's fondant dress and apparently the cake was delicious but Lupita this is not. This is…a woman who needs some help. Even Hermine made fun of herself by writing "guess who" on the side. 
Rowan nearly nailed it, but he promised choux buns for hair and there were no choux buns. Otherwise, it looks like an actual face! 
Sura struggled to keep one of Britain's most treasured celebs upright and was forced to give him a pillow. The judges claimed they could tell who it was, and to that we say, "I guess?" 
Miss Lou was a famous Jamaican poet and public figure and she did NOT look like this. But there's something about this cake that looks like a Pixar character mixed with a Star Wars character and we kind of love her. 
Sir Christopher Hoy is a Scottish race car driver and former cyclist with multiple Gold medals. We had never heard of him and when we search his name, this is not what he looks like, but this cake was apparently so good that its baker, Peter, won star baker. The mouth is so silly though! 
Marc nailed the Ziggy Stardust make up, but it looks like it's being worn by a melting cartoon character. 
Linda failed to put a real face on her Bob Marley cake and so as a result, he ended up looking like a spooky sea creature and we love him. We'd eat him. 
It's not exactly accurate or flattering, but it IS the cutest thing in the world. 
Trending Stories
Dax Shepard Shares He Relapsed, Opens Up About His Pill Addiction
Why Demi Lovato Is "Done" With Fiancé Max Ehrich Following Engagement
Inside Gigi Hadid and Zayn Malik's First Days With Their Baby Girl
New episodes of The Great British Baking Show arrive every Friday on Netflix. 
Source: Read Full Article