'Tarek & Heather The Big I Do': Heather Reveals a Sweet Behind-the-Scenes Moment Before She Walked Down the Aisle (Exclusive)
12/16/2021
Tarek El Moussa from Flip or Flop and Heather Rae Young from Selling Sunset dished about their HGTV wedding special, Tarek & Heather the Big I Do, revealing a few sweet (and funny) moments that didn't make it to air.
The couple told Showbiz Cheat Sheet that producers packed endless hours of wedding planning and prep into the special episode. But of course, not everything ended up airing. Young recalled a sweet and special moment she shared with her father right before she walked down the aisle. A moment, she said she will always treasure.
'Tarek & Heather The Big I Do' did not include this special father daughter moment
"There was a moment I had with my dad that right before like I was standing at the top of the aisle and my dad and I just stood there and we took it all in," she recalled.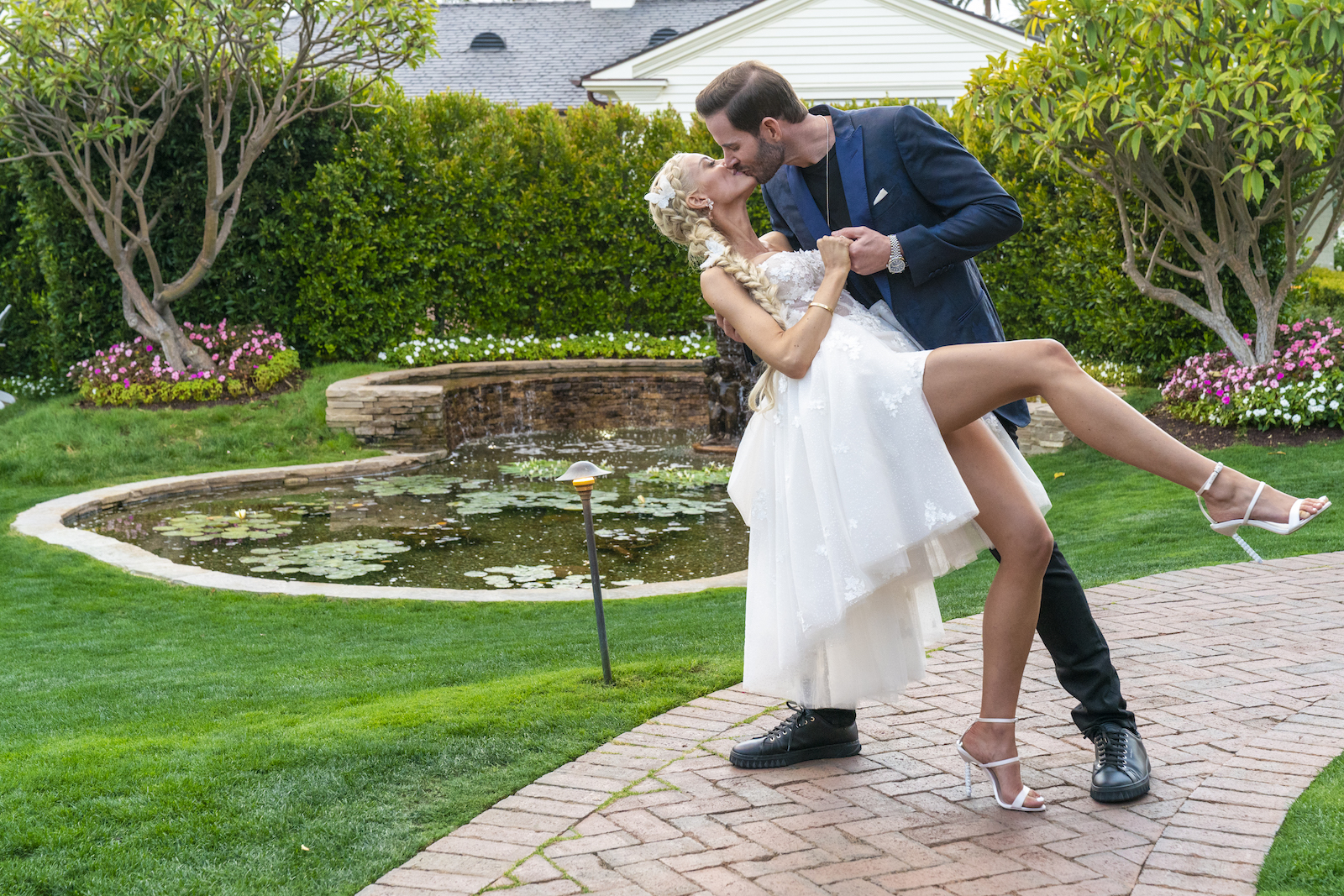 "And we just had that moment to watch Tarek standing up there waiting for me," she continued. "To see all of our friends, the kids waiting there. And, you know, I really would have loved to have that pause on that moment standing at the top of the aisle right before my dad and I looked at each other and said, OK, let's do this."
And while Young would have liked that moment to be included, she said they had a lot of creative control over the special. "Tarek and I were able to watch the wedding special earlier on and see a rough cut. And the network really valued our opinion throughout the whole filming process," she said.
"We had a lot of creative control because it was a huge decision for us to even film the wedding. And, you know, HGTV did such a great job at making sure that nothing was inhibited on our wedding day. Or anything leading up to the wedding and we told them we really wanted it shot just like a wedding video. We didn't want it to feel like we're filming a wedding special or filming for work."
Tarek El Moussa said not all the levity made it on 'Tarek & Heather The Big I Do'
Known for his quick jokes and fun sense of humor, El Moussa said some moments of levity weren't included. "It's in our home wedding video," he said. "Like during the vows, we made a couple of jokes. I teased the audience a little bit. So that didn't make it."
"Some of the speeches didn't make it," he continued. "But you know, not everything can make it and there was a lot going on." He also marveled at how quickly and beautifully the wedding came together in four short months. "A lot, a lot of help!" he exclaimed and laughed. "And a couple of stressful moments. But we did pull it off. I mean, there were so many moving parts and people and setups and designs. But in the end, it just came out spectacular."
Indeed, the El Moussa wedding is absolute eye candy, reflecting the couple's timeless signature style, while embracing the warmth of family and their celebration of love.
Will any of the wedding make it on 'Selling Sunset' Season 5?
While Young isn't sure what wedding footage will be included on Selling Sunset, she dished about some moments she thinks viewers will see next season. "You get to see my bridal shower in season 5," she said.
"And you see other little moments of me talking about the wedding and little moments of the wedding," she said. "I'm not quite sure what made it and what didn't? I haven't seen any of season 5. There is a shopping scene of me and Chrishell [Stause] where we're shopping for something special for Tarek. And I'm not sure I don't know what makes it and what doesn't."
The couple said if fans want to really immerse themselves in their nuptials, they should watch Tarek & Heather the Big I Do, which premieres on Thursday, December 16, at 8 p.m. ET/PT on HGTV. And available to stream on discovery+. 
Source: Read Full Article