'Survivor' Season 43 Preview Reveals Little About the Game, and Fans Are Annoyed
06/02/2022
Survivor Season 42 came to an end when its finale premiered on May 25, and the jury declared Maryanne Oketch the Sole Survivor. Now, fans of the CBS reality competition series can look ahead to the future. And although the network released a preview for Survivor Season 43, many are unimpressed by it.
The 'Survivor' Season 43 preview showed a first look at the upcoming game
Following the conclusion of the Survivor Season 42 after show, CBS aired the first preview for Survivor Season 43. Although, according to many sources, Jeff Probst and co. were still in Fiji filming the upcoming game on May 25.
The trailer shows the first look at many new players, and we got multiple confessionals from the castaways. One man informs us, "I went from being in a gang to being in a Ph.D. program at Duke. I just wanna show, like, you can do anything you want."
Another contestant, who has a prosthetic leg, claims, "I am scared to death. It's definitely going to be the hardest challenge of my entire life."
One woman, who will likely stir up trouble in the best possible way, says, "Growing up in a tough environment, there's some codes they grow up by. But I'm an ethical person. There's things I wouldn't cross the line on, right? Like, I don't think I'd … you know what? No, there's really nothing I wouldn't do."
There are brief clips of challenges throughout these confessionals in the Survivor Season 43 preview. And the logo at the end of the video reveals an octopus that might have some importance. However, other than a glimpse into the personalities of some castaways, the trailer doesn't reveal much about the game.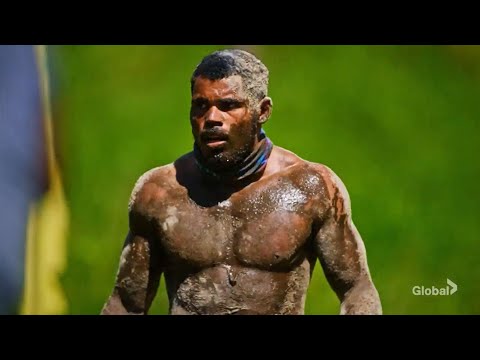 Fans aren't happy with the 'Survivor' Season 43 preview
After the Survivor Season 42 finale, fans took to social media to express their confusion and disappointment in the season 43 preview.
In one Reddit thread, a fan wrote, "The most generic preview we've ever had. I wish they showed shots of Octopus in between confessionals to tie with the logo."
Another user added, "I have to be honest, this cast looked better on paper. I'm sure it will change, but seeing them in action based on this preview, I'm not really impressed."
Meanwhile, fans shared their annoyance with the Survivor Season 43 preview on Twitter. One person said, "I wasn't excited by the Survivor 43 trailer [I don't know]. But I'm gonna watch anyways."
A different fan also theorized, "Now why does it seem like [Survivor 43] is going to flop??"
Hopefully, by the time Survivor Season 43 premieres, CBS will release more content that excites fans for the upcoming game.
Meet the cast
Inside Survivor posted the rumored cast of Survivor Season 43 a week and a half before the preview premiered. And although CBS has yet to confirm the cast, Inside Survivor's article contains many familiar faces from the trailer.
The rumored cast includes:
Cassidy Clark (25), a fashion merchandising major from San Marcos, TX
Cody Assenmacher (35), an account manager from Honolulu, HI
Dwight Moore (22), a computer science student from Memphis, TN
Elie Scott (31), a psychologist from Salt Lake City, UT
Geo Bustamante (35), a web designer from Honolulu, HI
Jay Jones (37), an event curator from Philadelphia, PA
Jeanine Zheng (24), a UX designer from Hamilton, MA
Jesse Lopez (26), a Ph.D. student from Durham, NC
Justine Brennan (29), a regional sales manager from Los Angeles, CA
Karla Godoy (28), an educator from Washington, D.C.
Lindsay Carmine (42), a pediatric nurse from Downington, PA
Mike Gabler (50), a heart valve specialist from Meridian, ID
Morriah Young (28), a content creator from Philadelphia, PA
Noelle Lambert (25), a Paralympian from Londonderry, NH
Nneka Ejere (42), a director of operations from Weatherford, TX
Owen Knight (29), an admission counselor from New Orleans, LA
Ryan Medrano (24), a fitness instructor from El Paso, TX
Sami Layadi (19), a student from Las Vegas, NV
Survivor Season 43 will premiere in the fall of 2022.
Source: Read Full Article