'Spider-Man: Far From Home' Earns $111 Million From Asian Box Office
06/30/2019
$98 million Chinese opening is Sony's second highest weekend ever in that market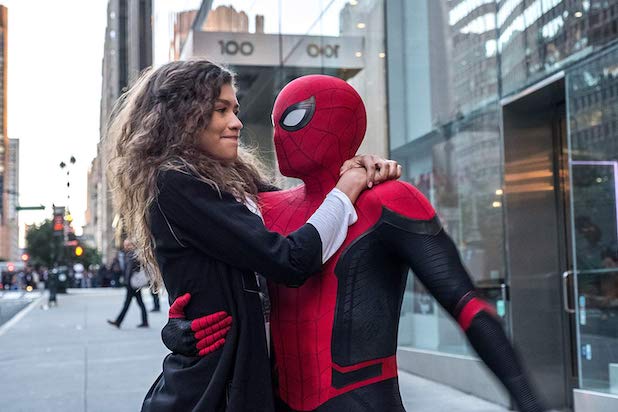 Sony
Before its release in U.S. theaters on Tuesday, Sony/Marvel Studios' "Spider-Man: Far From Home" rolled out in China, Japan and Hong Kong this weekend and got off to a flying start, earning $111 million from the Asian markets.
Of that total, $98 million came from China, making "Far From Home" the seventh-highest Hollywood import opening in the country and the second-highest ever for Sony behind the $111 million earned last fall by "Venom." $10.8 million of that total came from 620 IMAX screens, scoring the largest opening earned in China by a "Spider-Man" film in the format.
With this start, "Far From Home" is 46% ahead of the opening earned in China two years ago by "Spider-Man: Homecoming," and 17% ahead of the opening brought in earlier this year by "Captain Marvel," which earned $154 million from that country as part of its $1.12 billion total. Elsewhere, "Far From Home" earned $9.4 million in Japan — the second-highest superhero movie opening there in the past decade — and a Sony-record $3.8 million in Hong Kong.
"Far From Home" will be in theaters in all other territories next weekend with the exception of Italy, which gets the blockbuster on July 10. Opening domestically on Tuesday ahead of July 4, the film is projected for a 6-day opening of $120-160 million. By comparison, "Homecoming" earned $154 million in its first six days of release in July 2017, finishing its theatrical run with $334 million domestic and $880 million worldwide.
"Spider-Man: Far From Home" follows Peter Parker (Tom Holland) as he comes to terms with the loss of Tony Stark following the events of "Avengers: Endgame." Unfortunately, his attempts to pick up his spirits with a European vacation with his friends are cut short by a visit from Nick Fury (Samuel L. Jackson), who needs Spider-Man to save the day now that the Avengers are no more.
"Homecoming" director Jon Watts returns with stars Zendaya,  Jon Favreau, Jacob Batalon and Marisa Tomei, with Jake Gyllenhaal joining the cast as the villainous Mysterio.
Source: Read Full Article