Inside Shailene Woodley And Miles Tellers Friendship
09/01/2021
Just like marriages, long-lasting friendships are almost unheard of in Hollywood. We're witnesses to a long list of friendship breakups through the years; Gwyneth Paltrow and Winona Ryder, Nicole Richie and Paris Hilton, Lauren Conrad and Heidi Montag, and Jordyn Woods and Kylie Jenner all quickly come to mind. As much as we wanted these people to be best friends forever, things got in the way, and they broke their bond.
Of course, not all Hollywood friendships end up biting the dust. There are quite a few that stand the test of time, like Jane Fonda And Lily Tomlin's unbreakable bond and Jennifer Aniston and Courtney Cox's sisterhood. It's the same case with Shailene Woodley and Miles Teller's friendship. Ever since they first starred together in movies, many have been wondering how they managed to maintain a close friendship. Not only that but there are also rumors floating around that they may be more than friends.
What's the deal with these two? Are they really just friends? Or do they have a sibling-like bond like Leonardo DiCaprio and Kate Winslet?
Shailene Woodley and Miles Teller see each other as siblings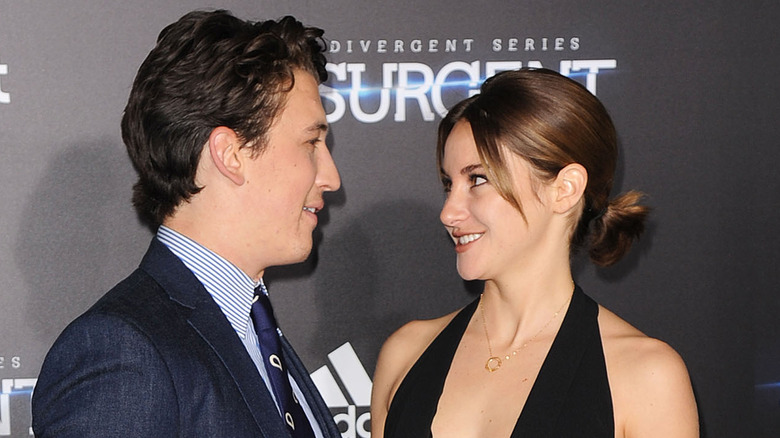 If there's one word to describe Shailene Woodley and Miles Teller's friendship, it's "platonic." The actors, who first met on the set of the film "The Spectacular Now," only see each other as brother and sister. Despite playing a couple on-screen, the two have only ever been just friends and nothing more. They've developed such a close bond that they compare their relationship to another pair of famous celebrity BFFs. In an interview with Vanity Fair in 2014, Woodley said, "I look at Miles and, like, I'm sort of Julia Roberts in the same way she is to George [Clooney]. Their relationship I could see being our relationship in 20 years, and that really is special."
Woodley also said in a different interview with Vanity Fair that when they met the first time, they hit it off instantly, and right then she knew she had a brother for life. "We met right before we began filming," she shared. "We ate lunch together and then talked for about two or three hours and then went straight to Georgia. We just naturally became friends and he became my brother for life. I want to do a movie a year with him."
Shailene Woodley and Miles Teller want to work with each other for a long time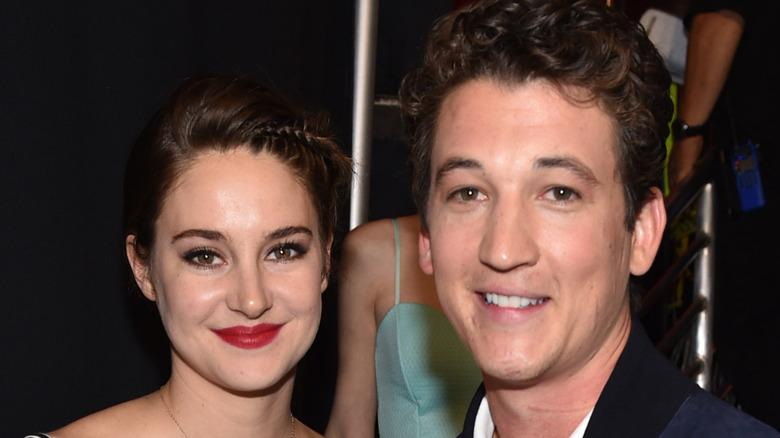 There's no denying that Shailene Woodley and Miles Teller have so much on-screen chemistry. They seem to be aware of this, which is why one of their dreams is to join the growing list of actors whose partnership lasts several years, like one from possibly the most famous movie romance of all time. "I would love for us to be a famous screen couple," Woodley told W. "Like Kate Winslet and Leonardo DiCaprio. I want to do a musical with him!"
Teller seems to share the same sentiment. "Those are two actors who are very, very good, and I thought it was cool that they did a film together with, like, 20 years in between," the actor later told The Hollywood Reporter. "With Shailene, I would love to work with her once every couple years. We work very similarly, and I think she's very talented."
It looks like they don't even have to wish for it to happen since it's reported that they could star in their fifth movie together. Following "The Spectacular Now" and "Divergent" series, they are set to appear together on "The Fence," a political satire directed by Grímur Hákonarson, per Deadline. When not showcasing their acting brilliance on screen, the two can be spotted vacationing with their respective significant others in places like Hawaii. Friendship goals? Absolutely!
Source: Read Full Article