Inside Norm Macdonald And Bob Sagets Friendship
09/15/2021
Fans, friends, and fellow comedians are coming together to mourn the death of "Saturday Night Live" legend Norm Macdonald. The Canadian-born television personality died at age 61 on September 14, his management firm Brillstein Entertainment confirmed to Deadline. Lori Jo Hoekstra, Macdonald's producing partner and friend, told the outlet he died following a 9-year private diagnosis with cancer.
Macdonald held off from ever announcing his cancer diagnosis as he "never wanted the diagnosis to affect the way the audience or any of his loved ones saw him. He was most proud of his comedy," the pal shared with Deadline. "Norm was a pure comic. He once wrote that 'a joke should catch someone by surprise, it should never pander.' He certainly never pandered. Norm will be missed terribly."
In the wake of Macdonald's death, entertainment industry stars quickly took to social media to share their condolences. Adam Sandler, Rob Schneider, and Seth MacFarlane uploaded heartbreaking tributes to Instagram, while Bob Saget posted a message on Twitter. Calling Macdonald a "comedic genius," the "Fuller House" alum said he was "devasted" over the news of his longtime friend's death. For details inside Macdonald and Saget's friendship, keep scrolling. 
Bob Saget shared a 'close' bond with Norm Macdonald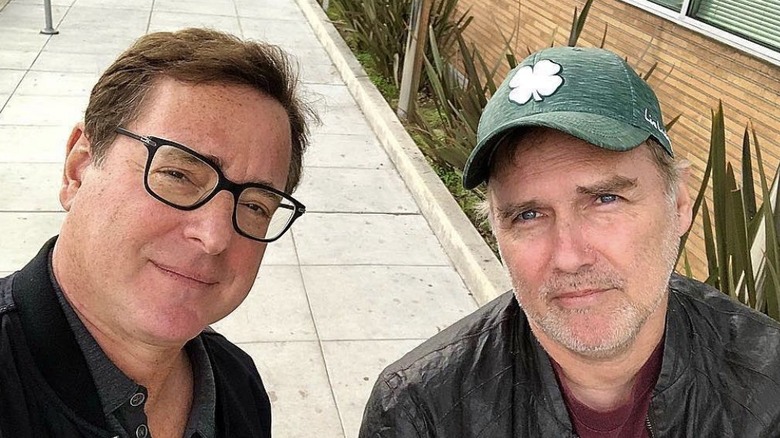 Along with the rest of the comedy work, Bob Saget was absolutely gutted when he found out Norm Macdonald died at age 61 following his cancer diagnosis. In his tribute on social media, the sitcom star said he's "been close" with the late comedian "for decades," having first crossed paths with Macdonald in the mid-1970s. "[I] met Norm in Ottawa when he was in my audience at 17 years old," Saget wrote on Twitter on September 14, attaching a sweet selfie of the two. Reflecting on their years-long friendship, Saget praised his pal for having such a "uniquely prolific, brazen, dark, hilarious, and heartfelt" voice in comedy. The "Full House" actor concluded his message, writing, "Love you forever, Norm."
Macdonald and Saget certainly established an unbreakable bond over the years, and they also worked professionally together on a number of occasions. As IMDb states, the two teamed up on one of their first projects in 1998's "Dirty Work," with Macdonald playing the role of Mitch, while Saget directed. Two years later, Saget directed a 2000 episode of Macdonald's former TV series "Norm." The duo also worked together on "Farce of the Penguins" in 2006, which featured Saget as the director and Macdonald as the star. Most memorably for fans, Macdonald was a part of the Comedy Central's legendary "Roast of Bob Saget" in 2008. 
Source: Read Full Article