Exclusive: Athena and May go undercover as 9-1-1 returns with a thrilling spring premiere
03/04/2023
Walking into danger? In the winter finale of 9-1-1 season six, Captain Bobby Nash (Peter Krause) discovered his friend and sponsor Wendall dead after appearing to have burned himself alive on the grounds of his rehab facility.
Bobby felt that the circumstances were suspicious though, and HELLO! has an exclusive clip of what happens when Bobby's wife Athena Grant (Angela Bassett) and her daughter May (Corinne Massiah) go undercover as a drug addicted teenager Jada and her overly-concerned mom, Mrs Greer, to get to the bottom of what's happening at the facility…
The scene comes at a point in Bobby's journey where he is searching for answers following Wendall's death. Episode 10 features a small time jump from episode nine, and EP Kristen Reidel tells HELLO! that when the episode opens, we're going to find the 118 "in similar places as where we left them".
"Bobby is still grappling with Wendall's death, and trying to figure out what happened," Kristen shares, adding: "For Chimney and Maddie, we left them having found a home and when we find them here in episode 10, they have moved in and the place is looking a lot less spooky! Hen and Karen are also in a good place but that's because they don't know what's going on with Denny yet…
"Meanwhile Buck is still dealing with the sperm donor and his place in that, and Eddie is also in a good place, so there's good things ahead."
TRENDING NOW: 9-1-1 boss details spring premiere emergency, shares thoughts on fan theories
Exclusive: Natacha Karam shares what Marjan's exit from 9-1-1: Lone Star really means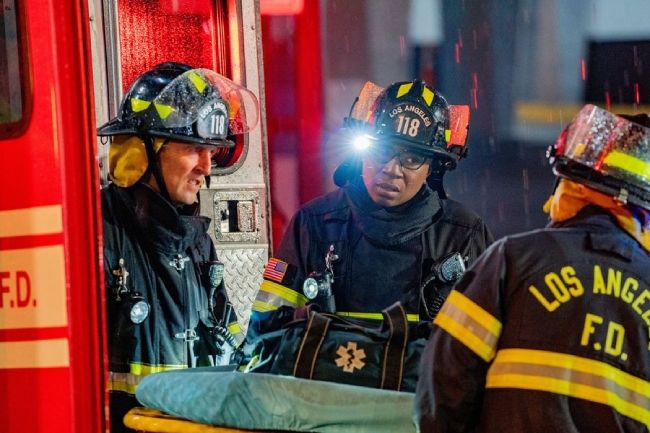 Tragedy will strike the 118
But we all know the good times can only last so long and by the end of the episode, tragedy will strike the 118 when Buck is hit by lightning from on top of the ladder truck.
With Oliver not leaving the show, and behind the scenes clues from the cast revealing that Buck will suffer a major injury, what will this mean for Bobby, who has recently lost his sponsor?
"For Bobby, it's really feeling like he's in danger of losing another kid and it's coming on the heels of having lost his friend," says Kristen. "We'll see the 118 supporting each other as they wait and hope for the best for Buck."
Read more HELLO! US stories here
Like this story? Sign up to our newsletter to get other stories like this delivered straight to your inbox
Source: Read Full Article