"Dad Steve" Is More Than Just a Running Joke in 'Stranger Things 3'
07/02/2019
Ah, "Dad Steve"…the Stranger Things 2 bit that launched a thousand memes. In the blink of a nine-episode Netflix season, Steve Harrington (Joe Keery) went from all hair and no other redeemable qualities to everyone's favorite mentor, thanks to his separation from ex-girlfriend Nancy Wheeler (Natalia Dyer) and broship with happy-go-lucky Dustin (Gaten Matarazzo). One hair makeover (and a dangerous amount of hairspray) later, a daddy was born.
But in season 3, the Steve-and-Dustin duo go from scene stealers to legit crucial players in the fight for Hawkins' survival. Even further, according to Gaten, the relationship becomes so much more important than a play for laughs and awwws. "Dustin's father isn't home," Gaten tells Cosmo while munching on Shake Shack french fries from his Expensive Taste Test video shoot. "He may see a father figure in Steve that he hasn't had for a while or never had at all."
So yeah, you're going to get a lot more tweet-worthy moments in Stranger Things 3. Gaten talks all things Dad Steve, potential love interests, and their newest partner in crime: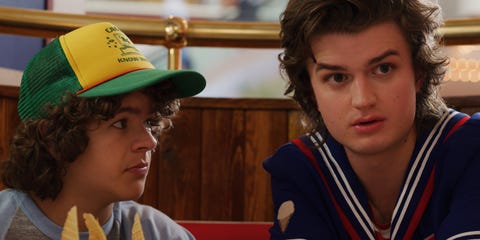 Okay, tell me everything about Dustin and Steve in Stranger Things 3!
I mean, the boys that he has considered his best friends forever seem to favor each other over Dustin. Like, Lucas and Mike seem to be the closest of the two and seem to have their closest bond. And Will's dealing with a lot of stuff right now.
So he gets that connection through Steve, in a way. Finally, he has that bond between two people that he didn't have before.
What kind of adventures do they go on this season?
Several. What's cool about the third season is that one adventure opens up a door to a new adventure. But, of course, in Stranger Things fashion, everything pieces together into a perfect puzzle. It's really cool.
Does Maya Hawke's character, Robin, add a third wheel to that Steve + Dustin dynamic?

Yeah. It's really exciting. And there are actually even more characters that come into the mix with that, too, which I'm really excited for people to see.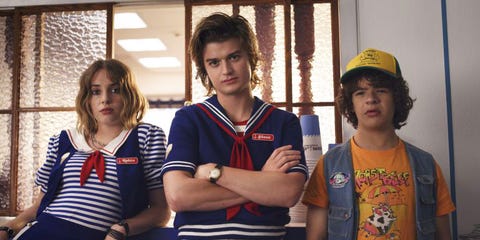 What's she like?
She's awesome, she's so dedicated to her craft…she's experienced so much and she's very young. She's only 20 and she tells us so many different stories about growing up as someone in the limelight because of her parents' fame.
Getting to know her, it almost feels like even though she's older, she feels like one of the kids. Me and her character get to interact quite a bit. She works at the ice-cream shop with Steve, as you see in the trailers, so me and Steve both get to interact with her a lot.
We're three seasons in and we've heard a lot from Finn about loss of privacy and expectations of fans. How are you dealing?
The thing that's important to remember is that if you go into the entertainment industry, you have to understand that some things might happen to you that you don't necessarily want or don't expect. If you're going in for fame, you're doing it for the wrong, wrong reason. A lot of times, people who go into it for fame end up getting it and they end up either really regretting it or turning into a completely different person. The minute you lose connection with the people you had before, you're sucked into a completely new world, into an alternate reality that doesn't really line up with anything that you knew before, and it can really mess you up.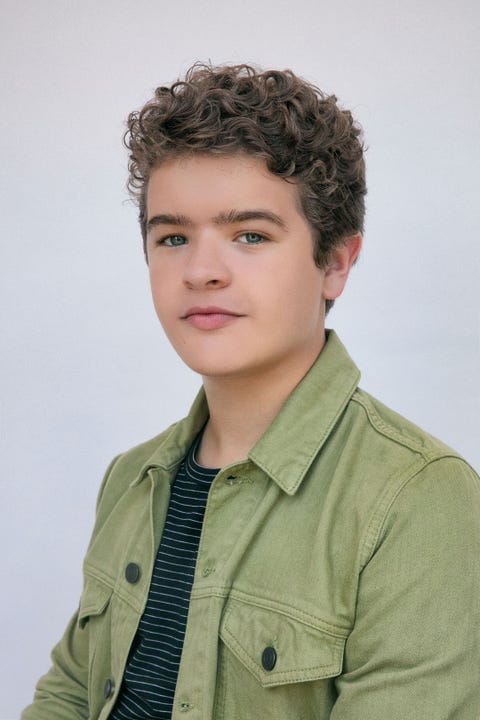 What about you? Has it really messed you up?
Sometimes it's easy to get caught up in the whole lights and fanciness. That's when I get home and I'm like, That's not me. That's when it gets hard.
When you're walking down the street, people talk to you all the time and it's amazing. It's opened up so many doors and so many opportunities to come. But thing is, there's nothing better than simple joys that people take for granted. Like just being an idiot with your friends. This past weekend, I was sleeping over at a friend's house, and we got up at, like, 2 in the morning, like, "Wanna go to Wawa?" And we got up in the middle of the night and we just walked to this convenience store, which is like a mile down the road. And I was thinking, If I get caught—wow, my parents are going to hear this and be so mad at me, but I don't care.
Anyway, I was wondering, If I get caught, will it look bad because of the position I'm in? And it kinda made me upset. You can't dwell on what you had once, but there was a sense of freedom that you miss. I think everybody has a right to privacy. A lot of people who make mistakes don't end up getting to recover from those because of being well known.
https://www.instagram.com/p/BzFLbfNnDvy/
I think my face in this pic sums it up #robotrestauranttokyo #sensoryoverload
A post shared by Gaten Matarazzo (@gatenm123) on
Enough serious talk. What's up with your Netflix prank show?
It's a horror prank show. They're made to make people think they might die at that moment. It's kind of hilarious. It's amazing. [Laughs] I'm a terrible person. What's great is that they're all good sports about it though. No one's punched us in the face or anything yet.
Stranger Things picks up in the summer and love is in the air. Eleven is still dating Will, and Luke is going strong with Max. I hear Dustin may also have a love interest?
They touch on the whole group subject with the whole romance situation. I can say that Dustin is definitely still pretty flustered and a little bit heartbroken because he was crushing on Max pretty hard. He's not mad at his best friend, he's not mad at Max. He understands that things happen, but of course he's going to be a little bit upset about it.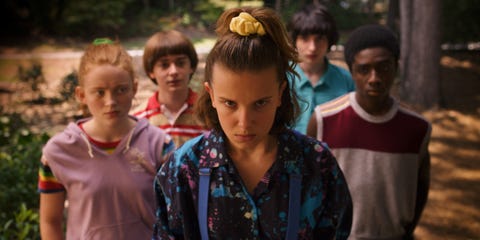 But is he ready to move on?
They touch on the subject. I think what's cool is that it's not necessarily a major driving force for the character. Like, two characters that are dating can be separate from each other and have their own stories, have their own motivations and own objectives besides each other, which is what's really cool. That doesn't mean romance can't happen. It doesn't mean it can't be a cool little extra thing that happens with the show.
So Stranger Things is not going to all of a sudden become Riverdale?
[Laughs] I guess you could say that.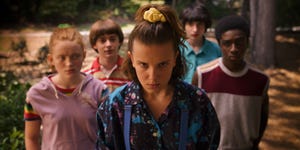 Source: Read Full Article