'Before the 90 Days' Season 5 Star Kimberly Threatens to 'Flip the Table,' Suspects Usman 'Sojaboy's' Friends of Sabotaging Their Relationship
01/03/2022
90 Day Fiancé: Before the 90 Days Season 5, fans were shocked when they saw the outrageously expensive gifts Kimberly bought for Usman when they first met. This season's fourth episode brings more drama for the couple when Kimberly suspects Usman's friends, Badmus and Slam-T, of attempting to sabotage her relationship. Here's what we know.
'Before the 90 Days' Season 5 star Usman's manager and assistant believe Kimberly is bad for Usman's image
Usman' Sojaboy' has gained traction in the South African music scene ever since his first appearance in Before the 90 Days. While he has yet to release a full album, he's released a couple of singles. One of those singles was dedicated to his ex-wife, "Baby Girl," Lisa Hamme. Now, he's in Tanzania with Kimberly as he shoots a music video for his song, "Zara."
A couple of days after Kimberly's arrival to meet Usman in person, Badmus, Usman's manager, set up a meeting with a fellow musician in the area named Rosa Ree. When Usman invited Kimberly to the meeting to discuss Rosa Ree, neither Badmus nor Usman's assistant Slam-T seemed pleased.
Kimberly and Usman held hands at the meeting, and the move made Badmus and Slam-T uncomfortable. Slam-T told Before the 90 Days Season 5 producers, "I think Usman cares about Kimberly very well, but when we're in public places, and he's holding hands with her, it's very bad for his image. Someone could just take a picture and just put it online. All people are going to say is, 'Oh he's back with another old lady.' Come on, no. We don't want that bro."
Kimberly was uncomfortable with Rosa Ree, threatened to 'flip the table'
Usman invited Kimberly to the dinner with Rosa Ree, much to the disappointment of both Badmus and Slam-T. When she encouraged Usman to go alone, Badmus and Slam-T jumped at the opportunity for Usman to spend some alone time with Rosa Ree. However, Usman insisted that Kimberly accompany him.
Kimberly noticed an exasperated sigh from Slam-T. She later told Before the 90 Days Season 5 producers, "A part of me is wondering if his team planned this on purpose like to push me out of the way so they can maybe show me 'Hey like this is the kind of woman Usman should be dating.'"
The 50-year-old San Diego native continued, "If I do see any kind of flirty-flirty thing going on with Usman and this chick then I will get up. I'll flip the table and I'll walk out 'cause I don't play that."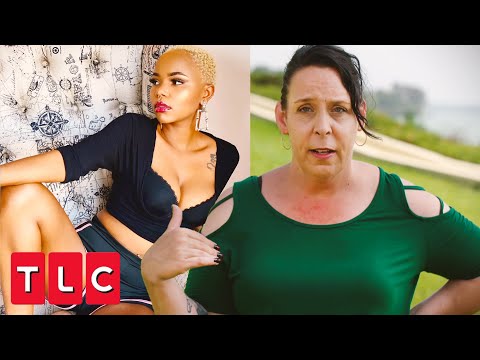 'Before the 90 Days' Season 5 star Kimberly suspects Usman's friends of sabotage
Thankfully for all involved, Kimberly and Rosa Ree hit it off at dinner with Usman. Early in the night Kimberly felt like a third wheel and expressed some insecurities about her age. However, Rosa Ree was quick to put her at ease.
"At first, I felt a little threatened by Rosa Ree, but I think the meeting went well. But I do still feel like this was a setup from Badmus and Slam-T to sabotage my relationship with Usman and I have to be prepared for more shady s*** from them in the future. I don't do well with shady s*** so it will not be pretty," the Before the 90 Days Season 5 star told producers.
Stay tuned for more episodes of Before the 90 Days Season 5 to watch Kimberly and Usman's relationship unfold. New episodes air each Sunday on TLC. The series also streams on discovery+
Source: Read Full Article