'And Just Like That…': So Far Nicole Ari Parker's Promise Hasn't Been Kept, Fans Don't Know Where All the Sex Went
12/27/2021
Sex and the City aired in the 1990s and early 2000s. The show might have been about female friendship at its core, but there was a fair bit of sex in the provocative series, too. Four episodes into And Just Like That…, the much-anticipated reboot, and fans are finding a show that is markedly different from its predecessor. That isn't inherently bad, but the original show's loyal fans have been lied to. At least, that's the way it seems right now. And Just Like That… has zapped the sex out of Sex and the City, despite Nicole Ari Parker's insistence that things would be plenty steamy. 
Nicole Ari Parker insisted that there was still sex in the city
Nicole Ari Parker joined the And Just Like That cast as Lisa Todd Wexley, a mother and documentarian. While fans learned little about Parker's new character ahead of the series launch, the actor, best known for her role in Soul Food, sat down with Vogue before the release and promised that there would be plenty of sex in the reboot. 
A solid vision of Parker's character has officially come into focus. Lisa and Charlotte York became friends when they started serving on the PTA at their children's school together. So far, Lisa has served as an important pal to Charlotte, and fans largely believe she'll be integrated into the core girl group sooner rather than later. While Lisa is a welcome addition to the series, fans aren't so sure Parker was telling the truth when she told Vogue that there was still plenty of sex in the reboot. So far, it hasn't happened.
'Sex and the City' fans are missing the sultrier aspects of the show in the reboot 
Sex and the City might have been about friendship when you stripped the series down to its foundation, but that's not what made it so groundbreaking. The original series gained a following, way back in the 1990s, because of its unabashed approach to female sexuality. That approach to sex and sexuality has helped it continue to gain fans. 
Since the premiere of And Just Like That… on December 9, fans of the original series have taken to the internet to compare the two shows. While it is understood that And Just Like That… is supposed to be a different series, fans are still sad that the reboot hasn't drawn more inspiration from its predecessor. 
At first, it was hard to put a finger on exactly what was missing. Now it's clear; The series is missing the sex that was so prevalent in its predecessor. In four episodes, two poorly constructed and rather cringe-worthy sex scenes have been included—an uncomfortable moment between Carrie and Mr. Big in episode one has been criticized for being unrealistic. The second scene, featuring Brady Hobbes, as a minor, having sex with his girlfriend while his parents listened in, has been criticized for being, simply put, in poor taste. 
Four episodes into And Just Like That… and fans are no closer to seeing a truly sultry scene from one of the main characters.
Rolling Stone points out that the production team seems afraid to present women in their 50s as sexual beings. Instead, And Just Like That… has opted to show Carrie, Miranda, and Charlotte as victims of their age. Neither Miranda nor Charlotte can figure out how to interact with people of color. Carrie, a sex columnist, seems to be stymied by a podcast about, well, sex.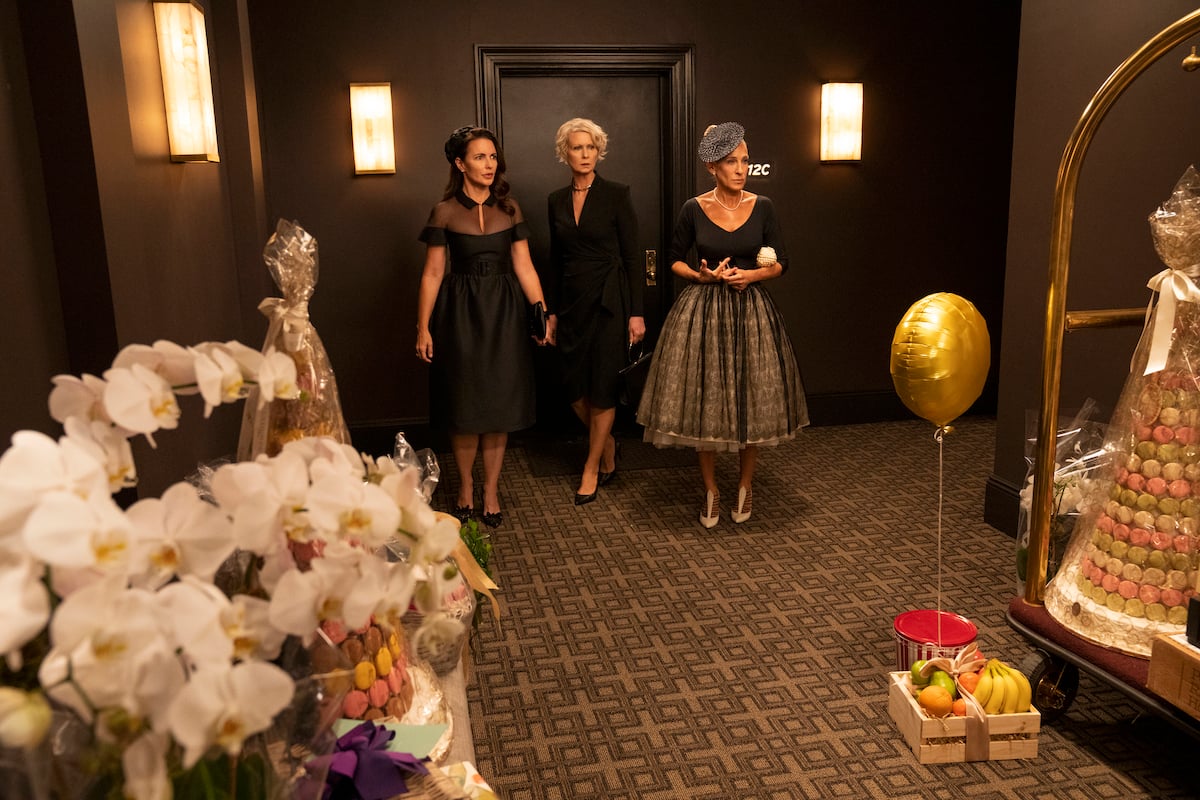 Four episodes into the show's 10 episode season and the sultry side of the series doesn't seem any closer to appearing. Whether the series will find its footing and utilize its predecessor's approach to sex at some point remains unclear. Parker seems to claim it will, but we've seen none of it yet, and the further into the season we get, the more jarring it would be if, suddenly, the reboot channels Sex and the City. The lack of sex in a reboot of a show all about the topic has some people questioning, why the production team is suddenly so terrified of sexuality.
Source: Read Full Article