The Truth About Britney Spears Friendship With Kim Kardashian
08/10/2021
Britney Spears is one of the biggest stars in the entertainment world, while Kim Kardashian is most definitely the biggest name on reality television. And while on the surface it might look like these two women don't have much in common, they actually have interesting ties that connect them.
Back in the 2000s, Spears had made a name for herself as one of the biggest pop acts to explode on the scene following her breakthrough hit, "…Baby One More Time." For Kardashian, it took her a little bit more time to become a household name. Before starring in the E! reality show "Keeping Up With The Kardashians," she was better known as Paris Hilton's best friend and closet organizer. And as many fans can recall, this was the same time that Spears began hanging out with Hilton and Hollywood starlet Lindsay Lohan. Kardashian was there too, but just more in the background as it was Spears, Hilton, and Lohan who made more headlines for their late-night escapades down Hollywood Boulevard, according to Vanity Fair.
With that said, a lot of fans can't help but wonder what kind of friendship Spears and Kardashian had back then, and where things stand between them today. Keep reading below to find out!
Britney Spears was the first to show support for Kim Kardashian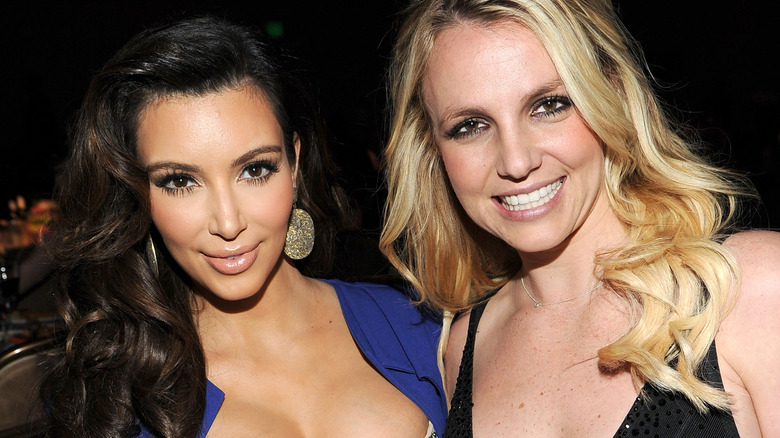 Britney Spears might be one of the most recognizable names in the world, but she's not someone who is known for her keeping up with her friendships. Because of her conservatorship, it is now pretty rare for Spears to be photographed with anyone that isn't already in her inner circle. However, she has been someone who has always kept up with Kim Kardashian throughout the years and the two women were spotted at several different industry events throughout the years. Back in 2007, Kardashian told Complex about running into Spears in a club while out with her buddy Paris Hilton.
Following Kardashian's first pregnancy in 2013, Spears went on the record to defend Kardashian after the media criticized her changing body. "The tabloids were so mean to her because she was big," Spears said (via UPI). "You are already emotional, and then the paparazzi are taking pictures of you pregnant. That should be the time when your body is the most treasured."
And while Kardashian has certainly tweeted her admiration for Spears over the years, she's been rather quiet over one particularly controversial subject.
Kim Kardashian has remained silent in her support for Britney Spears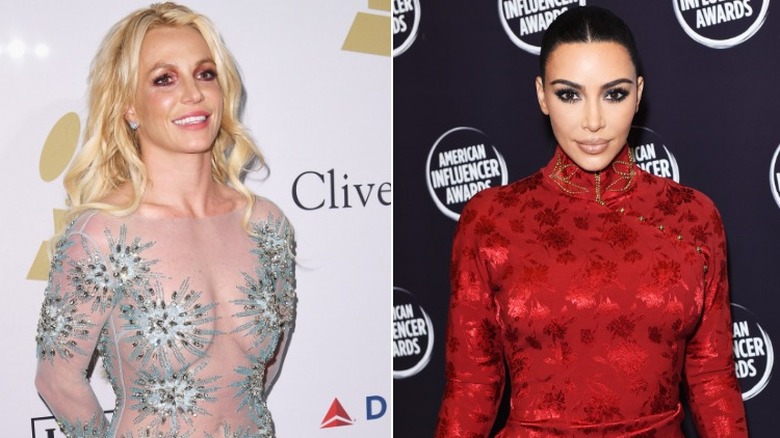 Britney Spears has been in the headlines because of her conservatorship battle with her father, Jamie Spears. The pop star wants to cut all ties with her father and wants to regain control of her own finances and her life again. A lot of people have even voiced their support for Spears, but there has been one person who has remained particularly quiet: Kim Kardashian.
Even though she's yet to jump on the "Free Britney" bandwagon, Kardashian did sympathize with Spears by comparing her own experience with the media. After the documentary "Framing Britney Spears" was aired, Kardashian took to her Instagram story to write (via Page Six), "The way the media played a big role in her life … can be very traumatizing and it can really break even the strongest person."
Yet, according to the Daily Beast, it's possible that one of the reasons why Kardashian has remained so silent in Spears' conservatorship is due to the business ties she has to it. The singer's former business manager, Lou Taylor, who reportedly helped her father set the conservatorship in motion, has her company and address listed in corporation filings for Kardashian's KKW Beauty and fragrance business. Some fans believe that might be the reason why Kardashian has avoided discussing any of the specifics regarding the conservatorship. The celebrity world sure is a strange one.
Source: Read Full Article