The 10 Biggest Jaw-Droppers at the 2019 MTV VMAs
08/27/2019
Boy, oh boy, was that a special award show!
On Monday night, the 2019 MTV Video Music Awards gathered the biggest musical artists in multiple genres for an unforgettable evening of performances and awards.
As soon as the show kicked off, Taylor Swift wowed the crowd with a live performance of her songs "Lover" and "You Need to Calm Down" from her latest album. And yes, she also showcased her support for the Equality Act thanks to her set design.
On the red carpet, stars like Tana Mongeau, Lil' Kim and Brandon Lee turned heads with their risky style moments. As for the audience, Gigi Hadid and Bella Hadid were living their best lives as they danced to multiple acts throughout the three-hour show.
And before the telecast came to a final end, stars like Queen Latifah, Wyclef Jean, Naughty By Nature and more rap pioneers delivered a New Jersey-themed performance.
For those who were unable to watch for whatever reason, we decided to compile some of the best moments that fans will be talking about today.
From political statements to wild accessories, there's a lot to cover for MTV's annual party. Grab the popcorn and enjoy our gallery below.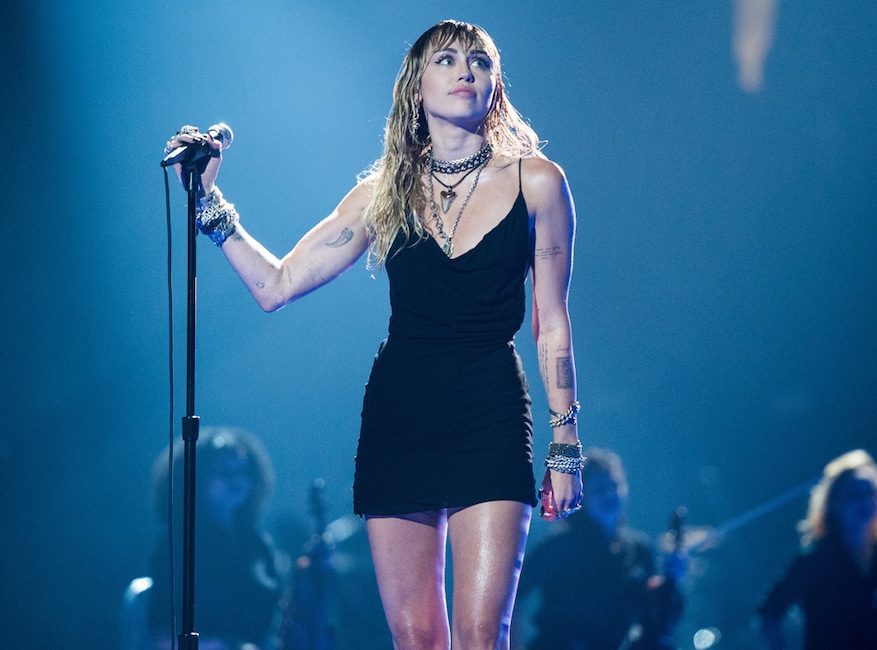 John Shearer/Getty Images
She's Just Being Miley
The newly single Miley Cyrus returned to the MTV VMAs to deliver a powerful performance of "Slide Away." While belting out the emotional lyrics, the singer showed off new tattoos by LA-based tattoo artist Winter Stone. The tattoo on her upper arm was a lyric from the Pixies hit track "The Thing" that read, "My head was feeling scared, but my heart was feeling free." And in another twist, we're told The Hills: New Beginnings star Kaitlynn Carter was spotted backstage supporting Miley.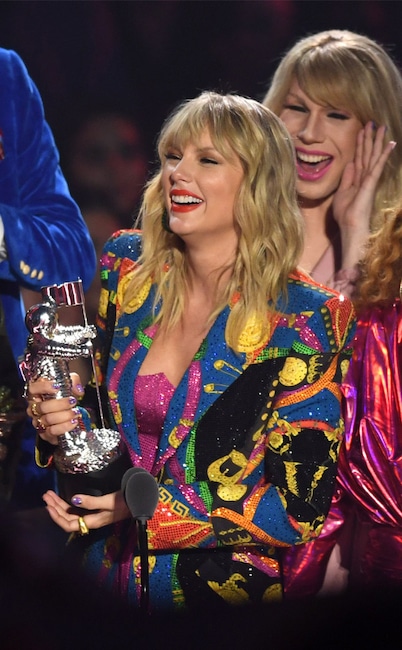 Stephen Lovekin/Shutterstock
Taking a Stand
After winning Video of the Year for "You Need to Calm Down," Taylor Swift couldn't help but address the pro-LGBTQ messages in the song and music video produced by Todrick Hall. "You voting for this video means you want a world where we're all treated equally, regardless of who we love and how we identify…we deserve equal rights under the law," she explained before expressing her support for the Equality Act. "I want to thank everyone who signed that petition because it has half a million signatures, which is five times the amount it would need to warrant a response from the White House."
MTV
Oops Alert!
Presenting is easier said than done—just ask John Travolta. After announcing the recipient for Video of the Year, the actor was caught on camera thinking RuPaul's Drag Race star and fabulous drag queen Jade Jolie was Taylor Swift. And just when we thought the pop culture world had forgotten about Adele Dazeem. Not so fast!
Article continues below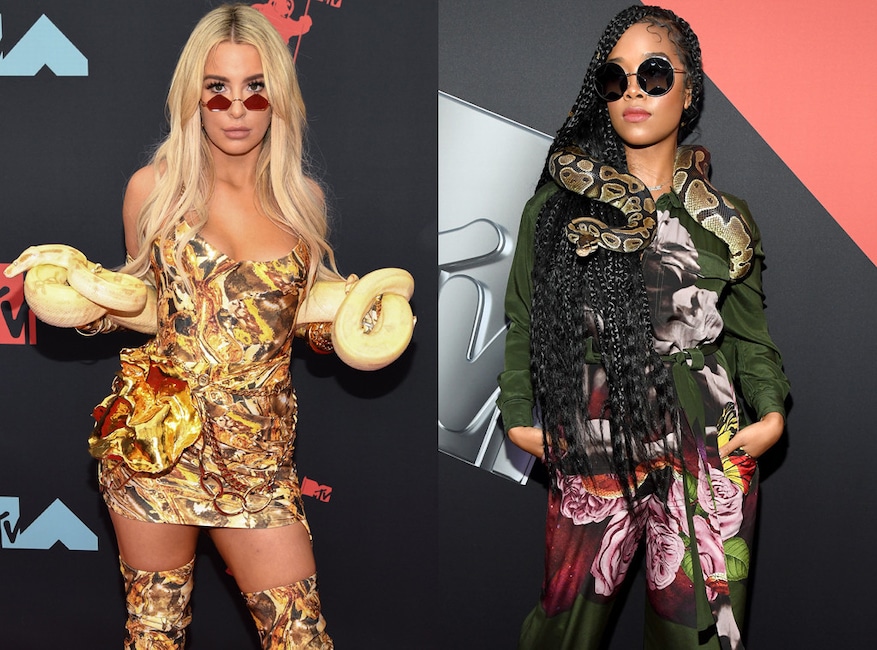 Andrew H. Walker/Shutterstock; Kevin Mazur/WireImage
The Best Accessory?!
It's hard to believe that Britney Spears performed with a snake all the way back at the 2001 MTV VMAs. But fast-forward to Monday night where H.E.R. and Tana Mongeau brought live snakes to the red carpet in New Jersey. "Snake, bitch. @mtv," the MTV star shared on Instagram after posing for photographers. Is this a trend that's here to stay or will it slither away? Stay tuned!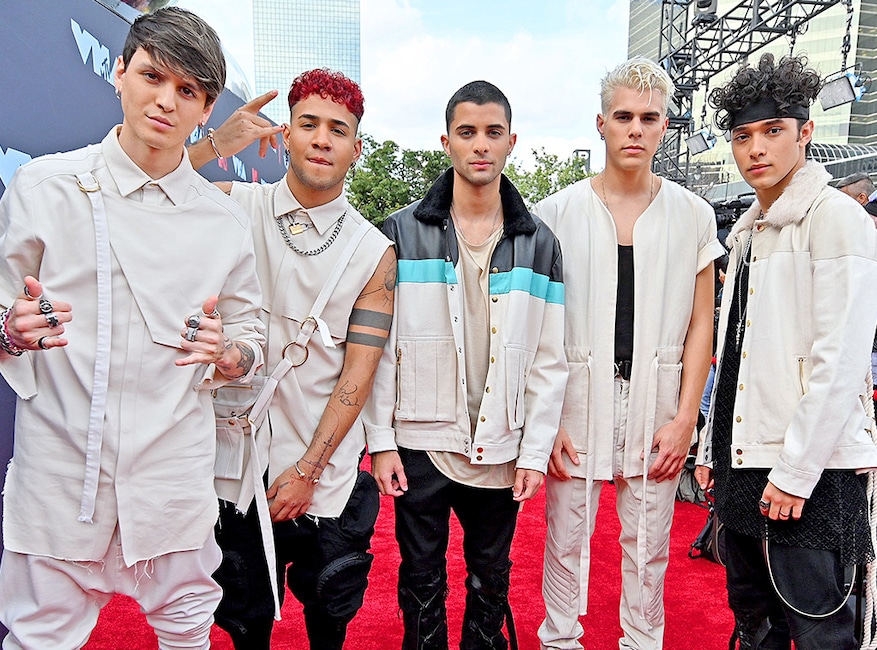 Dia Dipasupil/Getty Images for MTV
Latin Takeover
Is it just us, or did the Latin music world wow us all night long?! It all started during MTV's pre-show where CNCO performed one of their biggest hits—and proved they have the talents to be invited back for many years to come. Once it was showtime, Best New Artist nominee Rosalía wowed the crowd with her debut VMAs performance. She would later win the Best Latin award with J. Balvin for "Con Altura." As for J. Balvin and Bad Bunny's performance of "Que Pretende," we're still smiling over their outfits.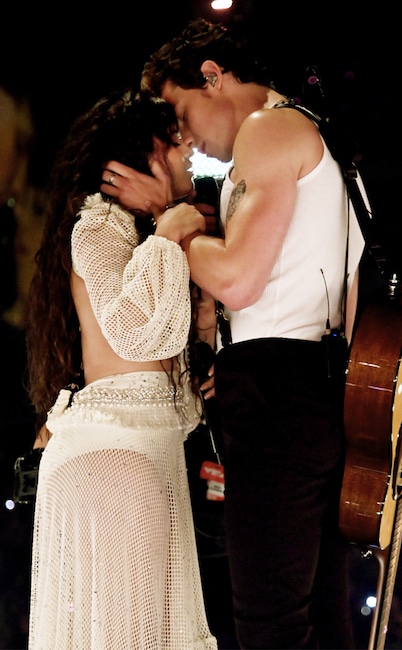 Jamie McCarthy/VMN19/Getty Images for MTV
PDA Alert
In their first television performance of "Señorita," Camila Cabello and Shawn Mendes proved they have plenty of chemistry when they got this close to kissing. Ultimately, they simply turned up the heat with their candle-lit performance that had host Sebastian Maniscalco just a little flustered. "Wow. Absolutely stunning. I mean, the skin, the hair, the lips," he shared after the moment.
Article continues below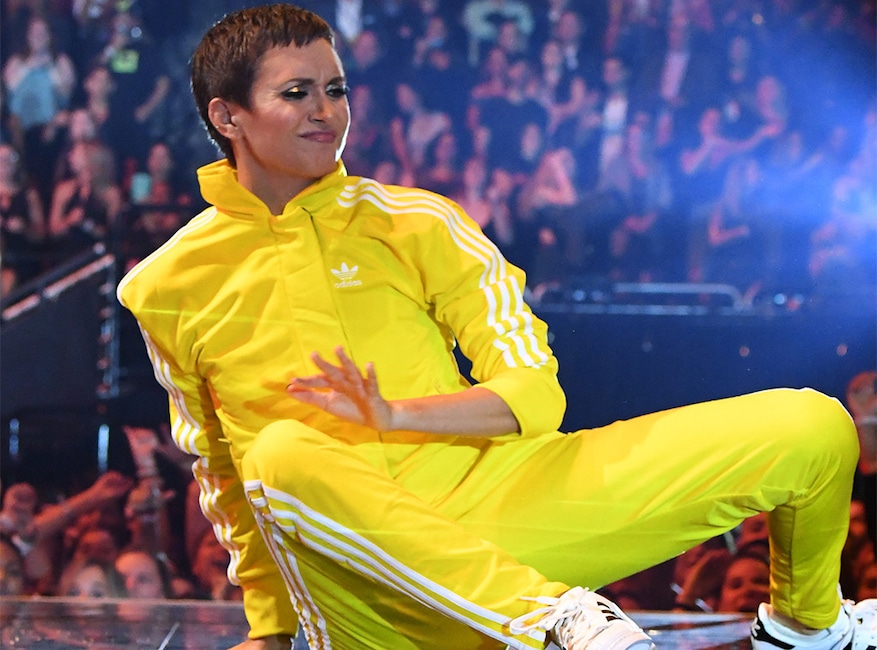 Jeff Kravitz/FilmMagic
Blast From the Past
Before accepting her Michael Jackson Video Vanguard Award, Missy Elliott completely stole the show with her performance that spanned generations. In the middle of the show, Cheaper By the Dozen star Alyson Stoner also appeared on stage to reprise her role as one of Missy's backup dancers. The nostalgia was real, folks!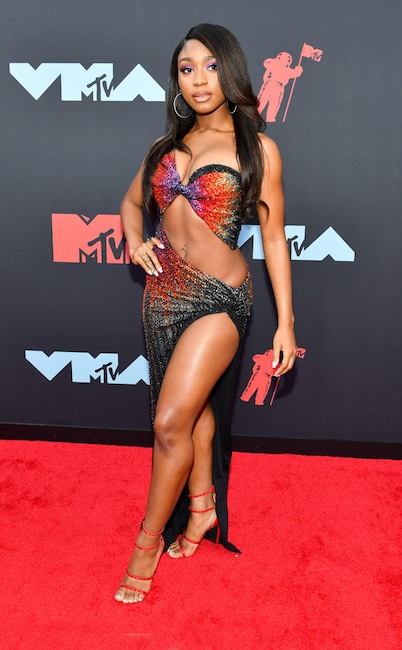 Erik Pendzich/Shutterstock
Holy Abs
When Normani walked the red carpet outside the Prudential Center, social media was immediately in awe of her fashion including that sexy Swarovski crystal gown with bold cutouts from Nicolas Jebran. Fans also couldn't help but applaud her six-pack abs that were on full display. "My only motivations are @Normani and her #VMAs abs," one user shared online. Another fan added, "O m f g!! @Normani's abs are the glory!! Show that body, girl."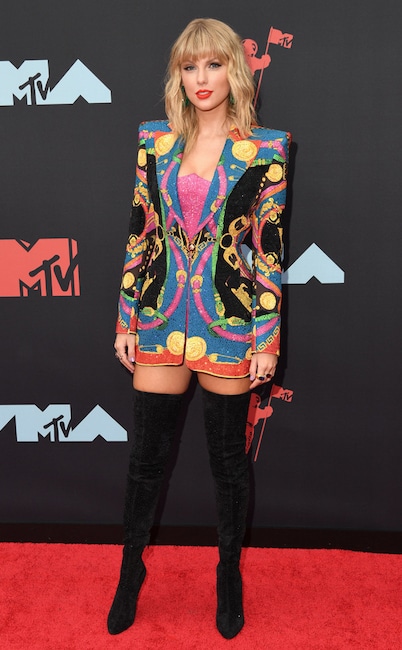 Andrew H. Walker/Shutterstock
10 Years Later
Taylor Swift returned to the MTV Video Music Awards 10 years after Kanye West infamously crashed her acceptance speech. While on the red carpet, the "ME!" singer couldn't help but reference the unforgettable pop culture moment during an interview. "You never know what can happen on this show, as I've learned," she told MTV News. The singer would later open the show with a performance of "You Need to Calm Down" and "Lover."
Article continues below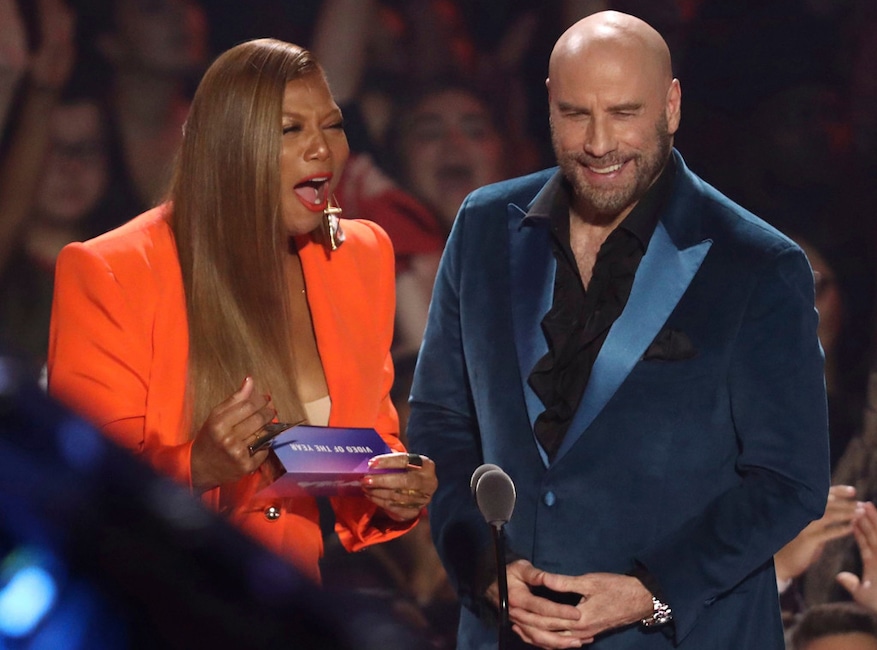 Matt Sayles/Invision/AP/Shutterstock
Reunited in Jersey
More than 12 years after starring on the big screen together, John Travolta and Queen Latifah came together to present one of the biggest awards of the night. "I haven't seen this guy since Hairspray," Queen Latifah shared while standing next to her former co-star. "This is a New Jersey homecoming for both of us right now! I grew up right around the corner." John replied when poking fun at his Hairspray character, "Holy s–t. Last time I saw you, I was a woman."
Don't miss E! News every weeknight at 7, only on E!
Source: Read Full Article