Coi Leray Gushes Over Eminem Following Dad Benzinos Rock and Roll Hall of Fame Rant
05/06/2022
The 'Trendsetter' artist's tweet arrives after the reality TV star launched a Twitter rant to call out the Rock and Roll Hall of Fame for including Em in the honorees alongside Dolly Parton and Duran Duran among others.
AceShowbiz –Coi Leray shows support for Eminem after her father Benzino insinuated that the Detroit rapper is undeserving to be an inductee of the 2022 for the Rock and Roll Hall of Fame. On Thursday, May 5, the "TWINNEM" femcee took to her Twitter account to sing "talented" Eminem praises.
Seemingly shading her father, Coi wrote on the blue bird app, "I'm about love, equality, respect and forgiveness." She went on to say, "I have nothing against Eminem, 25 years of my life all I know is he a very talented artist and actor ! (8 Mile was great). Let's build bridges and get over them before you burn the bridge and burn with it."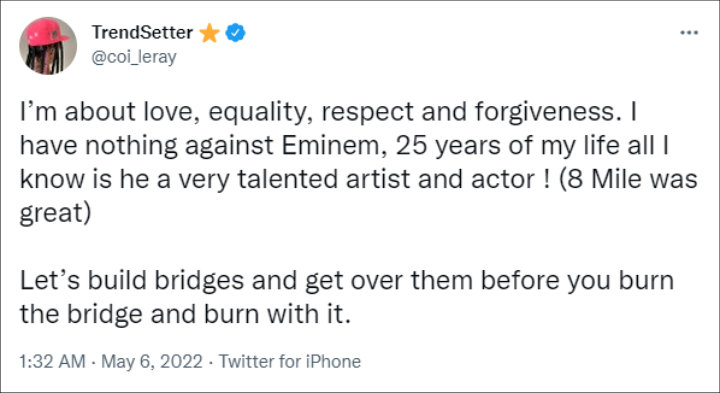 Coi Leray defended Eminem after Benzino's rant.
Her tweet arrived after Benzino launched a Twitter rant on Wednesday to call out the Rock and Roll Hall of Fame for including Em in the honorees alongside Dolly Parton, Lionel Richie, Duran Duran, Eurhythmics, Carl Simon, Pat Benatar and Judas Priest. "Rock and roll hall of fame is just like the Grammy's, they have no respect for our culture, Black or Hip Hop and if you don't agree, you're racist, period point blank," Benzino tweeted.
In a separate tweet, the "Love & Hip-Hop: Atlanta" star questioned, "So where's Nas, [Eric B.] and RAKIM, [Kool Moe Dee], Epmd, Fearless Four, [The Fat Boys], [Lauryn Hill], [Lil' Kim], OutKast and 100s other Black rappers?? GTFOH."
Ironically, Benzino's rant against Eminem came just weeks after he declared peace with the "Lose Yourself" spitter after beefing with the rapper for nearly 20 years. "To all @Eminem fans & Stans all over the world, the beef is officially over," Benzino wrote in a March 17 tweet. "I'm letting y'all know I have no hate towards any of his fans & recognize his contributions to Hip Hop. He truly is apart of the culture & 1 of the best to rock the mic regardless of his color."
Benzino started feuding with the "Monster" spitter in the early 2000s when the latter complained about not getting a deserving rating in The Source magazine, which was owned by the TV personality at that time. Benzino responded to the complaint by publicizing lyrics from the emcee's song in which he dissed black women.
Source: Read Full Article