Why Didn't Meghan Markle and Kate Middleton Attend Wimbledon Together?
07/11/2019
The relationship between Meghan Markle and Kate Middleton has been a confusing one ever since Meghan married into the royal family. Some suggest the two women hate each other, yet neither of them has ever appeared to hate the other. It's hard to tell whether they're best friends or not, however, we couldn't help but notice that Meghan and Kate did not appear at Wimbledon together this year the way they did last year. Why?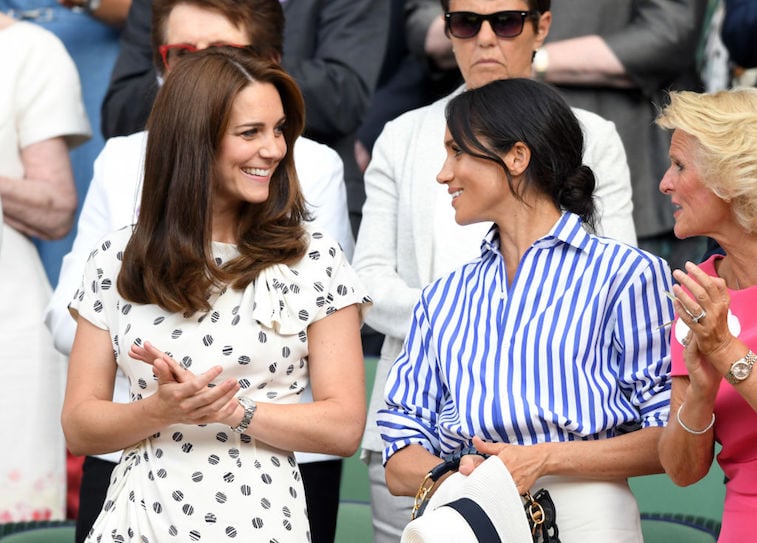 Kate and Meghan's first appearance as in-laws took place at Wimbledon last year
Meghan only officially joined the family in May 2018, and for a little while, the royal rumors were nowhere to be found. Meghan and Kate made their first appearance as in-laws together at Wimbledon in 2018, and they were all smiles throughout the tennis matches. They appeared to truly enjoy each other's company, but somewhere along the line, harsh rumors started that the two women had a terrible relationship. None of those rumors have been proven, though Kate and Meghan don't seem to spend too much time together.
This year, the two women appeared separately
This year, both women were back at Wimbledon — but not together. Instead, Kate arrived on day two of Wimbledon alongside two British tennis players, Katie Boulter and Anne Keothavong. Meghan, on the other hand, attended Wimbledon as well, but we didn't see her until a few days later when she showed up to watch Serena Williams play. Meghan attended the event alongside two friends from college, Genevieve Hillis and Lindsay Roth. However, drama with Meghan's attendance ensued when her body guard reportedly asked BBC reporter Sally Jones to not take photos of the duchess. The reporter then went on to suggest that Meghan and Harry think of themselves as celebrities rather than royals carrying out royal duties.
It could have been something as simple as a scheduling conflict
The reason why Meghan and Kate didn't attend the event together could be as simple as a scheduling conflict. Meghan likely wanted to attend Wimbledon to support Serena Williams, but it's possible Kate could not attend Serena's match due to scheduling. The women may have thought it would work out best for them to attend separately. The two were spotted together only a few days later when they both attend the King Power Royal Charity Polo Day with their children. There still didn't appear to be any bad blood between the women, despite them not attending Wimbledon together.  
Kate had nothing but excitement for Meghan when she gave birth
When Meghan gave birth, Prince William and Kate Middletonwere asked by the press about their thoughts. The two seemed over the moonabout Meghan and Prince Harry's new little one, and Kate said that May was agreat time to welcome a baby (Kate's daughter, Charlotte, was also born inMay). The women seemed to enjoy their day out together at the polo match, andfor once, everything seems to be going smoothly within the royal family. Butthat hasn't stopped people from choosinga side between Meghan and Kate.
Source: Read Full Article