'The Crown' Films Princess Diana's Revenge Dress Scene Steps Away From Prince William's Bedroom
11/19/2021
The new season of Netflix's The Crown has a hit a little too close to home for Prince William, literally. Season 5 of the series is expected to show more on the breakdown of Prince Charles and Princess Diana's marriage and their separation. It also recently wrapped taping one unforgettable Princess Diana moment which was actually filmed steps away from her oldest son's front door. Yep, you read that correctly. The Crown recreated the moment Diana wore the revenge dress and filmed it right on the grounds of Kensington Palace where Prince William and his family live.
Here's what we know.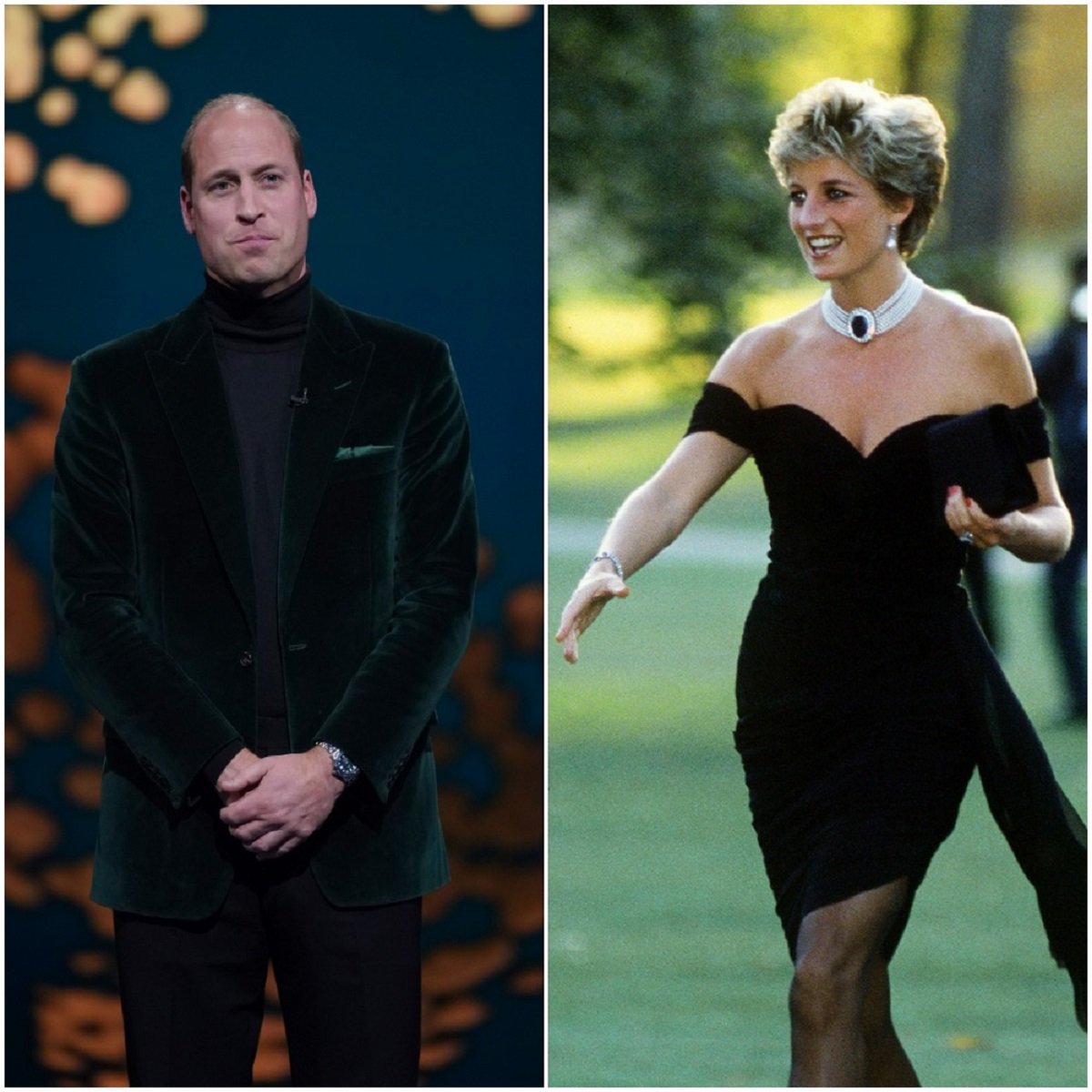 Prince William is said to be upset that 'The Crown' has 'exploited' his mother
Theere have been multiple reports that the Duke of Cambridge wasn't happy about the fourth season of the show as he believed "his parents [were] being exploited and presented in a false, simplistic way to make money."
Season 5 of the Netflix show will reportedly depict Princess Diana's bombshell Panorama interview with Martin Bashir. The prince recently made his thoughts known about where he stands on that interview or anything pertaining to it being broadcast again. Following an investigation earlier this year which found that the interview was secured by presenting the princess with fake documents, William released a statement saying that it should never be shown or commercialized upon again.
"It is my firm view that this Panorama program holds no legitimacy and should never be aired again," the duke said in a video message via social media. "It effectively established the false narrative that for over a quarter century has been commercialized by the BBC and others. This settled narrative now needs to be addressed by the BBC and anyone else who has written, or intends to write, about these events."
Princess Diana's revenge dress moment was filmed right outside William's home
Another moment in Diana's life to be portrayed in The Crown is when she donned an iconic black dress, later known as the revenge dress, to an event the same day Prince Charles admitted to adultery during a televised interview. The moment was reenacted inside Kensington Gardens — which is yards away from the Prince William's front door.
A source told The Sun: "They could have chosen any location to recreate this scene, but they opted to select a spot which can almost be viewed by William from his bedroom window. Just imagine if he had seen. There's also likely to be questions asked about how any permission was given to use a royal park to film a drama which the royal family has been so deeply unhappy about."
Questions about the decision to film in such close proximity to the Duke of Cambridge's abode won't be the only questions that will be raised next season as the series is expected to depict a number of controversial issues the royal family faced in the '90s.
Elizabeth Debicki is playing the late princess in the new season which is slated to be released on the streaming platform in November 2022. Seasons 1 through 4 of The Crown are currently streaming on Netflix.
Source: Read Full Article