Kristen Bell Was Once In 'Reefer Madness: The Movie Musical,' And I Need To Talk About It
07/18/2019
ICYDK, Kristen Bell is kill-ing it right now. In the world of TV, the actress's current network hit, The Good Place, has garnered a huge following, and the highly anticipated Veronica Mars Hulu reboot drops July 26. (Btw, here are the eps you need to watch before then.) Meanwhile, in Kristen Bell movie news, Frozen II is slated for a November 22 premiere. I mean…girl's on fire (ice?).
But even though it seems like Kristen has been famous for basically ever, she didn't get her breakout role early in her career. Instead, she had sort of a slow burn, as they call it.
Sure, Veronica Mars propelled her into a facial-recognition zone that led to a thriving TV career. Her film roles, on the other hand, didn't take off until later.
Even Kristen knows her status. "I don't need to talk to my agents all the time about where I stand in the acting community, because I'm pretty clear on where that is: I'm a strong B-level actor," she told the Los Angeles Times. "That feels accurate—not too narcissistic, but also not too self-pitying. I'm totally fine being right down the middle."
But while Kristen scores points for being humble, it certainly looks like she's not staying "right down the middle" for long. The actress has several projects either out now or in the works, so to celebrate her long career, take a look at her journey with every Kristen Bell movie ever:
The Cat Returns

The Cat Returns marked the first role for Kristen as someone other than a background character. Okay, so she wasn't actually on-screen—it was just her voice. Buuut she did give voice to Gossip Girl, and that narration is nothing short of iconic.
Anyway, back to this anime movie: In it, a 17-year-old girl gets engaged to a cat prince in a magical world. The film was dubbed in English in 2002.
Spartan
Believe it or not, this 2004 neo-noir thriller came before Kristen's Veronica Mars breakthrough. Instead of playing the detective, she's the person all the detectives are looking for: Laura Newton, daughter of the President of the United States, who goes missing. (Oooh.)
Reefer Madness: The Movie Musical
This 2005 film is a musical adaptation of the 1936 anti-marijuana film Reefer Madness. Kristen stars as one of the main characters, Mary Lane, who is a good girl and prays for her friends affected by weed. (LOL.) Primarily created to make fun of its predecessor, this movie doesn't take itself seriously (as, let's be real, it shouldn't).
Left with more questions than answers? Yeah, same. Hopefully, the trailer can clear a few things up:
Deepwater
It seems like the first half of Kristen's career was spent starring in thrillers—who knew? Well, the 2005 film Deepwater is one of them. She plays Nurse Laurie in this neo-noir film about a man who helps the owner of the Deepwater Hotel, until he uncovers his new boss's dirty—and dangerous—secret. Kristen is not a main character, but she's in the film nonetheless.
Fifty Pills
Gracie (Kristen) is the girl of Darren (Lou Taylor Pucci)'s dreams, but Darren won't have the opportunity to ask Gracie out if he doesn't get enough money to pay for college. To get the dough, he has to sell 50 ecstasy pills before the night is over (ya know, as one does).
This unrated 2006 film isn't critically acclaimed by any standard, but it's sure to make you laugh, or just as likely, cringe.
Pulse
Horror movies based in an evil internet have definitely surged in the 2000s, and 2006's Pulse is no exception. After her boyfriend commits suicide, a psychology student (Kristen) and her friends start receiving creepy emails and video messages.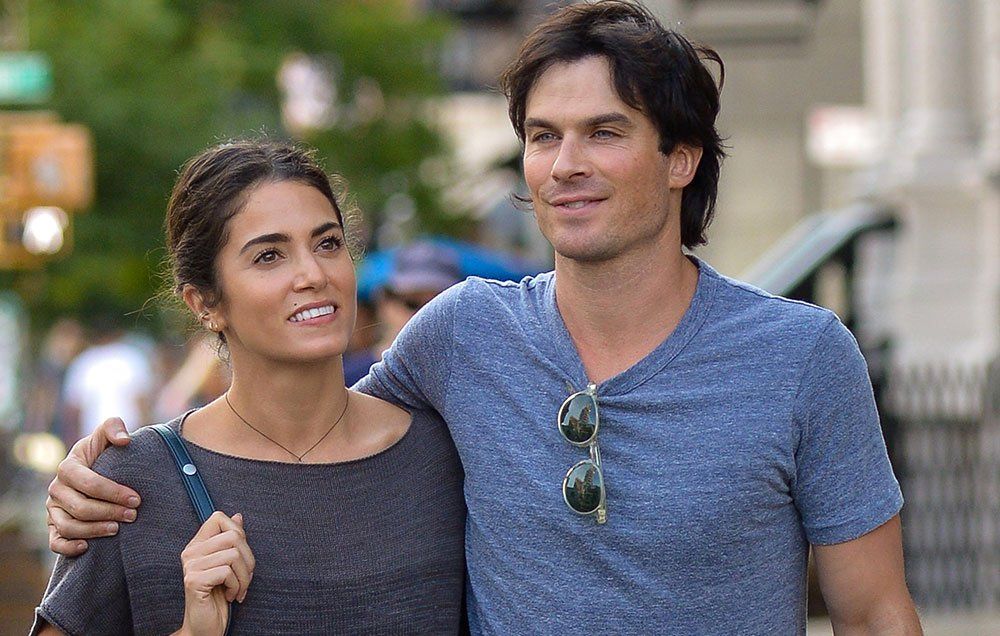 To stop the suicide epidemic, she teams up with a hacker (played by The Vampire Diaries hottie Ian Somerhalder) to infiltrate the computer. The horror film also stars Christina Milian and Octavia Spencer.
Roman
The thriller/horror theme continues with Roman, a film in which Kristen's character, The Girl, is murdered. Roman (Lucky McKee) was in love with her but accidentally kills her (sorry, Kris). But that's okay, I guess, because there is another lucky lady on the way…
Forgetting Sarah Marshall
Imagine going to a Hawaiian resort to forget about your movie star ex-girlfriend…only torun into her and her new BF the second you get. That's the premise of this 2008 comedic classic. Jason Segel plays the main character, Peter, and Kristen plays his ex, Sarah.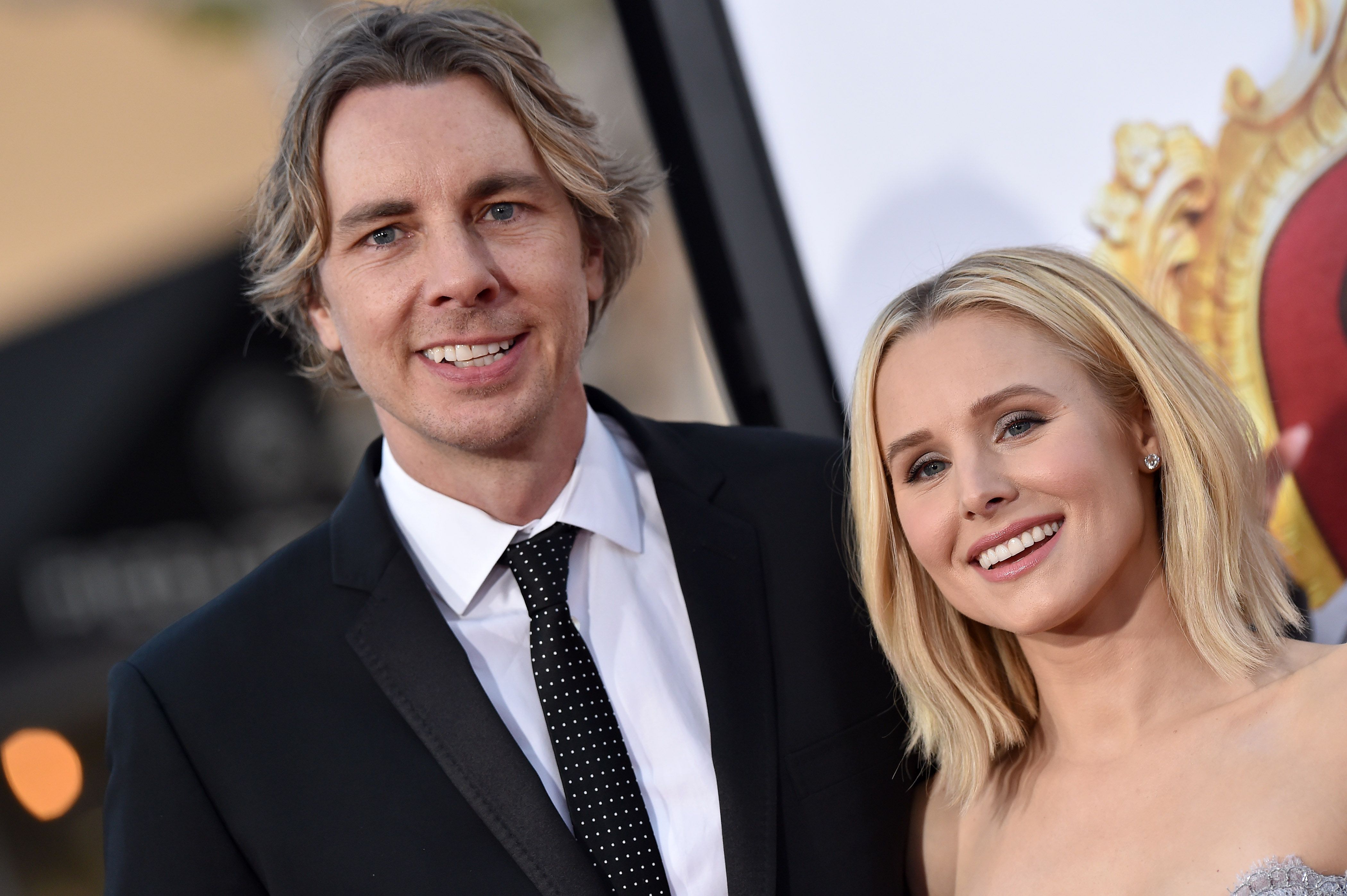 Kristen might've been cast to play a villain-esque character, but she saw the role as so much more. "Sarah was written in a beautiful way: She's not just the antagonist or the victim. Typically in romantic comedies, one person is demonized and the other isn't," she said in a 2008 interview with Women's Health. "…Sarah is probably 25 percent b*tch, 25 percent airhead, and 50 percent real."
Fanboys
A group of friends set off on an epic road trip that will end at George Lucas' Skywalker Ranch, all in hopes of seeing The Phantom Menace early. (Semi-spoiler alert: They will likely be very disappointed, as it's often regarded as the worst Star Wars film.) Kristen plays one of the friends, Zoe, and has several classic one liners.
Serious Moonlight
Kristen acts alongside Meg Ryan, Timothy Hutton, and Justin Long in this 2009 rom-com. In the film, Meg's character, Louise, finds out her husband (Timothy) is cheating on her with a younger woman (Kristen). Her solution is to duct tape him to a chair and make him fall in love with her again. (I mean…that would work, right?)
Unfortunately, that plan goes awry when Long's character decides to rob the place.
Couples Retreat
Couples Retreat follows four couples who head to a beautiful paradise together. Cynthia (Kristen) and her husband Jason (Jason Bateman) are there to work on their marriage, while others just want to relax. That proves to be difficult when they realize the couples therapy sessions are not exactly optional.
Astro Boy
Kristen lent her voice to a character named Cora in this animated flick, based on a Japanese manga series about a robot boy who sets off to find himself and ends up becoming one of the greatest heroes of all time.
When In Rome
Kristen adds a lot of sass and quippy comebacks to the rom-com genre, and thank G for that. In this one, she plays Beth, a young, ambitious woman who has neglected her love life (because, of course she has). When she goes to Rome for her younger sister's wedding, she gets a little tipsy and ends up stealing some coins out of "the fountain of love."
Next thing she knows, the people who those coins belonged to follow her back to New York City because they're in love with her. Josh Duhamel is the main love interest, so, yeah, watch it for the hot people.
Need a blast from the past? Check out this exclusive clip from the When In Rome stars:
Get Him To The Greek
Russell Brand plays Kristen's boyfriend in Forgetting Sarah Marshall, so she made a cameo as Sarah Marshall in Get Him To The Greek…because that's what famous friends do, duh.
Anyway, the film stars Jonah Hill (also in Forgetting Sarah Marshall) as a record label intern whose job is to get Russell's musician character to a big gig at—you guessed it—the Greek Theatre.
You Again
This romantic comedy is the ultimate cringe-fest because of its #relatable plot (by movie standards, anyway). Marni, the brother of Kristen's character, Mami, is marrying Joanna (Odette Annable), the girl who bullied her in high school.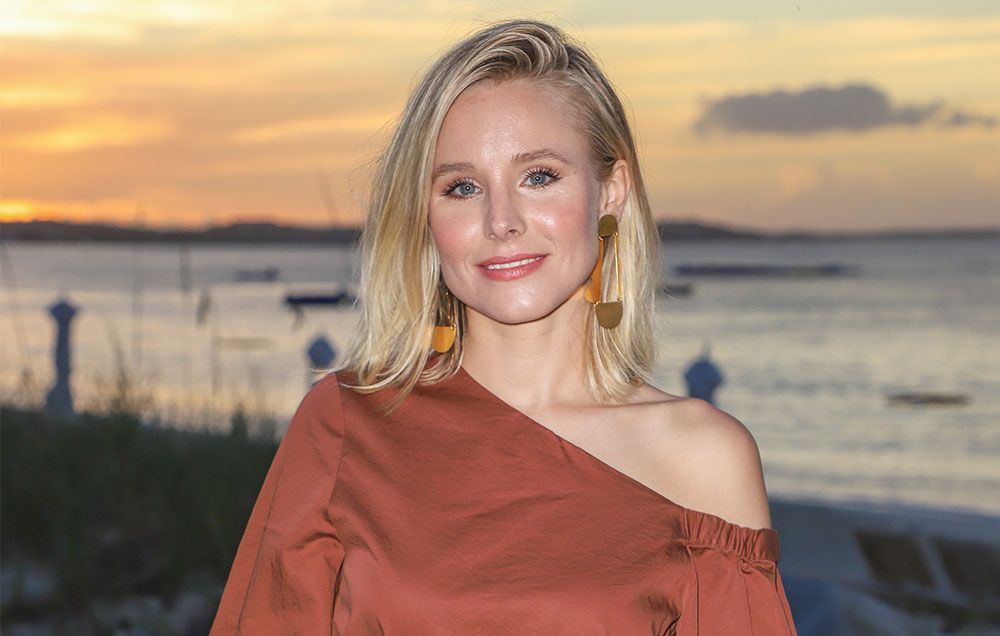 To make matters worse, the mothers of the bride and groom (Jamie Lee Curtis and Sigourney Weaver, respectively) were rivals in high school, too. Mayhem ensues, threatening to make every family gathering v awkward.
Burlesque
Kristen may have a sweet-looking face, but don't underestimate her—she can play a perfect mean girl, too. Case in point: her character Nikki in Burlesque.
The film follows a small town girl (Christina Aguilera), chasing big city dreams. She stumbles across a burlesque bar, and Cher—okay, technically her character, Tess—helps her out as only Cher can. Nikki is her dancing rival, and girl-on-girl drama ensues.
Scream 4
Kristen made her contribution to this famous slasher-flick franchise in the minor role of Chloe. The fourth installment takes place 10 years after the third, as Sidney Prescott (Neve Campbell), now a writer, returns to her hometown on a leg of her book tour. Surprise, surprise, Ghostface is still after her.
Big Miracle
This heartwarming tale is based on a true story. A reporter (John Krasinski) asks his ex-girlfriend (Drew Barrymore) to use her Greenpeace experience to help save a family of whales from ice rapidly forming in the Arctic Circle. Kristen plays fellow reporter Jill Jerard.
Hit and Run
What's better than seeing your favorite actor in a movie? Seeing your favorite celeb couple. Kristen and now-husband Dax Shepard starred in the 2012 car-chase comedy, Hit and Run.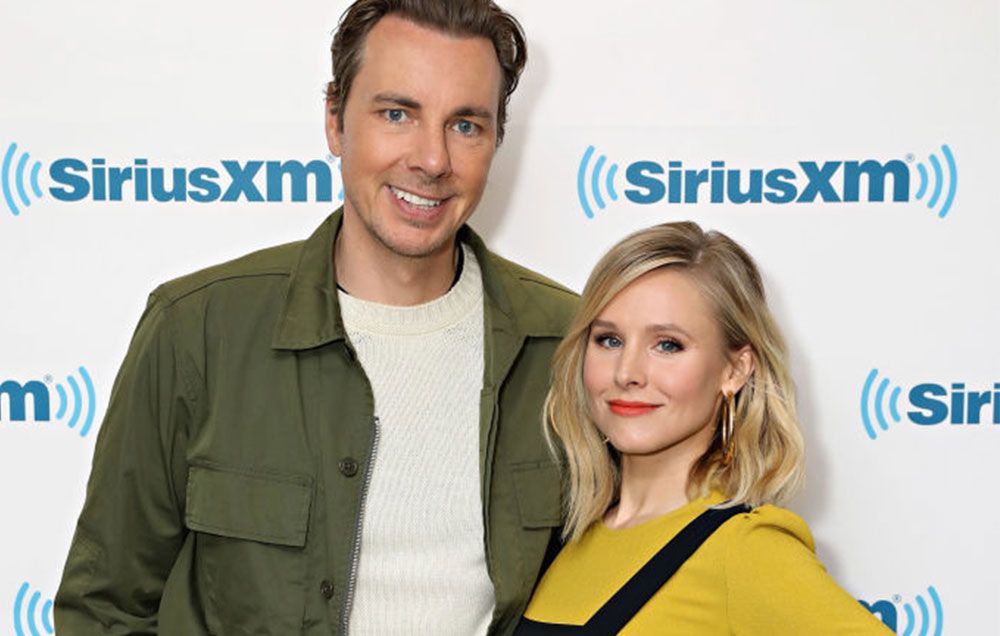 Their on-screen chemistry was off the charts, and Kristen couldn't help but notice it. "You also strive to have this much comfort with your pretend significant other when you're on camera, and we actually have it," she told Collider at the time. "So, there was a sincerity that I don't think I've ever had on camera before, when I was with him. I was really being 100-percent natural."
Stuck In Love
This feel-good movie follows a family whose members all find love at the same time. Greg Kinnear's and Kristen's characters, Bill and Tricia, respectively, are involved in a FWB relationship, but don't label this one predictable just yet.
Instead of catching feelings, Tricia helps him get his groove back and inspires him to go win back his ex-wife.
Movie 43
This comedy-sketch movie, comprised of short films, follows a filmmaker who pitches the most absurd pitches. Kristen plays a "fake supergirl" in one of the short films. And, uh, that's it.
The Lifeguard
Kristen stars as Leigh, a 29-year-old former reporter who moves back to her hometown in Connecticut to be a lifeguard. She gets into a questionable romantic relationship with a teenager from her hometown.
It's kind of weird…if you can finish it.
Some Girl(s)
An adaptation of a play by the same name, this film follows a man (Alex Brody) as he goes all over the country to see his ex-girlfriends before he gets married. Kristen plays one of his exes, Bobbi.
Frozen
Kristen lends her voice to the chipper, go-get-'em Princess Anna in Disney's hit Frozen. In the animated musical, Anna's sister Queen Elsa possesses special ice powers, which her subjects find kinda terrifying.
When Elsa runs away, Anna teams up with ice seller Kristoff, his reindeer, and a magical snowman to brave a fierce winter storm and find her. It's a modern adult-child classic.
Can't wait for Frozen 2? Here's everything you need to know about the upcoming sequel:
Veronica Mars
The hit TV series got a feature film in 2014, all thanks to a Kickstarter campaign. (Those actually work, people!) The film takes on a darker tone than the show, and fans get a glimpse of the Team Piz versus Team Logan matchup. (Let's hope that continues for the Hulu reboot.)
"Just knowing Veronica exists has allowed me to pull strength in certain situations," Kristen told The New York Times in July 2019.
Zootopia
Disney movie Zootopia took home the Oscar for Best Animated Feature in 2017, so you know it's gotta be good. The film follows a rookie bunny cop, Judy Hopps, who defies stereotypes. Kristen assumes the role of sloth Priscilla who—shocker—speaks very slowly. Priscilla works at the DMV so…yeah, that checks out.
The Boss
Kristen plays Claire, the assistant to titan of industry Michelle Darnell (Melissa McCarthy). After her boss serves some jail time for insider trading, Claire puts Michelle up while she gets back on her feet. Almost immediately, Michelle hatches a plan to rebuild her empire, but as with any Melissa McCarthy flick, there are a lot of shenanigans along the way.
Bad Moms
Okay, there were some people who doubted the potential success of Bad Moms. Those people were proven oh-so-wrong. Here's the gist: A group of less-than-perfect moms band together to take down the snobby PTA moms who run the school.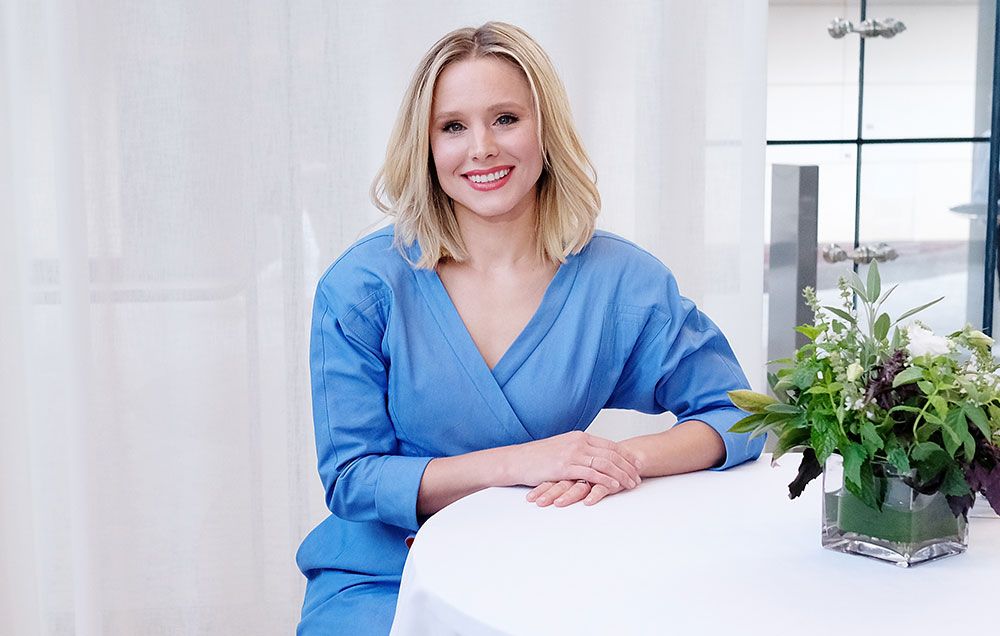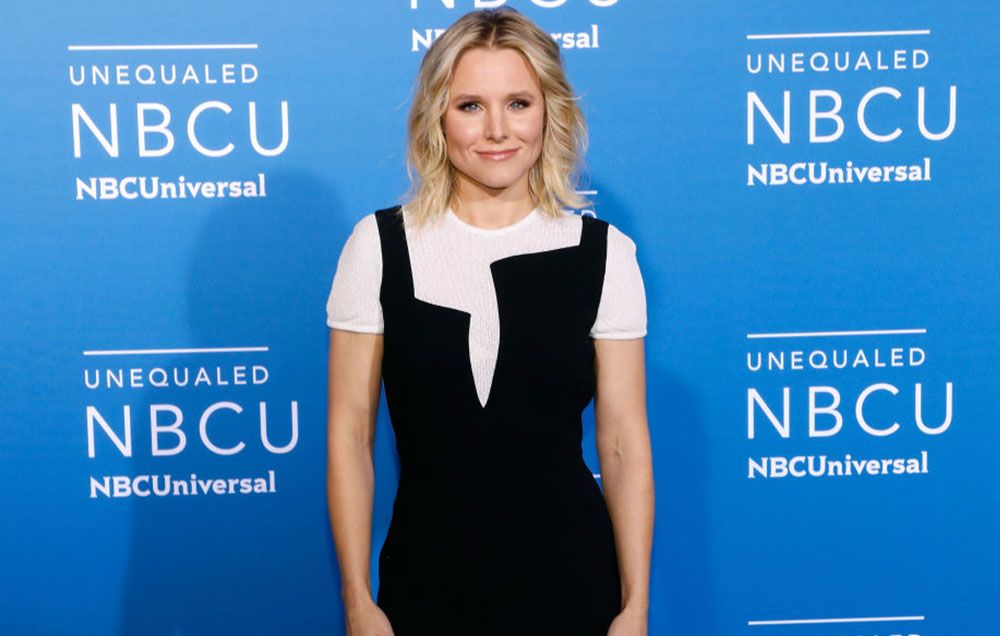 Kristen had this to say about the movie, which, btw, spawned a sequel titled Bad Moms Christmas: "It just was such an accurate depiction of what moms feel like. It's so brilliant that this script was written by two guys because you just can't imagine that two guys could actually write something this true to life."
"But they wrote it as a love letter to their overworked wives, and they kept such an open mind throughout the whole process." Major applause.
The Disaster Artist
You know you've made it when you get to play yourself in a movie. In this parody based on Tommy Wiseau's infamous The Room,Kristen plays a fan of the film. Not only is she a fan IRL, Kristen is known for hosting The Room viewing parties, per Entertainment Weekly. "There is a magic about that film that is indescribable," she told the publication.
CHiPs
This buddy-cop movie mostly features Kristen's husband, Dax, but she has a scene-stealing moment in a red bathing suit. The actress, who had recently given birth, didn't pump for a whole day, according to People: "And I said to the kids, 'Daddy's making a movie, go to the fridge, the food truck is closed.'"
Just in case you were wondering (and you know you were), here's a peak at the scene in question:
How To Be A Latin Lover
Kristen brings out her cat-lady side in this rom-com. When a man, Maximo's (Eugenio Derbez) rich lover dumps him for an even younger guy, he moves in with his sister, Sara (Salma Hayek) and young nephew.
In an effort to pass on his skills of seduction to his nephew, he attempts to work his magic on Kristen's character, Cindy, but it doesn't turn out exactly like he planned.
Like Father
Kristen Bell. Kelsey Grammer. What more could you ask for? When Kristen's character, Rachel, is left at the altar, she decides to go on her Caribbean honeymoon with her estranged father, Harry (played by Kelsey). The best part about this zany comedy is that it's a Netflix Original movie, so all you need is a subscription to watch.
Ralph Breaks The Internet
There is an iconic scene in the second Wreck It Ralph film where all of the Disney princesses are in one room. Elsa and Anna (again voiced by Kristen) were both included in the mix, solidifying them as permanent members of the Disney Princess squad.
Welp, guess it's time for a Kristen Bell movie binge…
Source: Read Full Article