Everything Tom Schwartz and Katie Maloney Revealed About Split on Vanderpump Rules Season Premiere
02/09/2023
"She laid it all out and it made perfect sense."
Things are very different for Tom Schwartz and Katie Maloney this season on "Vanderpump Rules," after the pair announced their split following the Season 9 reunion. Wednesday's Season 10 premiere began with the exes each sitting down with a producer, as they said they were ready to talk about the divorce on camera in separate confessionals.
"12 years together and five years of marriage, I went to Tom last winter and asked him for a divorce. We've had a lot of issues. I've never been a priority to him," Katie explained.
"I felt like my whole world, everything I know sort of dissipated in that moment. She laid it all out and it made perfect sense," he said in his own confessional. "I can't give you the specifics, because I was so upset I wasn't really listening. Also, I don't want to ask her again because of the reasons we broke up is because I'm not a good listener. Long story short, I just didn't know how to make her happy."
Katie then set the scene for the rest of the group, saying Lala Kent, Raquel Leviss and James Kennedy were also going through "heartbreak." Before wrapping up the introductory confessionals, she added, "I really value my friendship with Tom and I want to remain friends. But there's just one rule: Don't hook up with anyone in the friend group."
Of course, we know Tom does just that, eventually … just not in the premiere.
Unable to render YouTube Video.
After the confessionals, Tom was seen stopping by Katie's apartment to drop off their dogs — where he told her he was starting to feel "less weird" about seeing her in her own place. They didn't interact too much else the rest of the episode.
Viewers did get a peek into their respective dating lives post-split, however, when they both attended a party where James was DJing toward the end of the hour.
At the event, Tom was heard saying, "I have no desire to date, to be with another human being." Katie, however, was on the prowl. "The only thing is, Tom's here," she said to a friend while they checked out guys at the soiree, "thus far, he hasn't been around for most of my happenings."
"I've made out with like three people and then done the full deed with two," she added in a confessional. "I'm not out there whoring it up. Can I ever say that word, whore? Am I gonna get canceled?"
And that was it for these two, outside of Tom agreeing to try and smooth things over with Lala to maintain his own friendship with Katie. We'll see how much things fall apart as new episodes of "Vanderpump Rules" air Wednesdays on Bravo.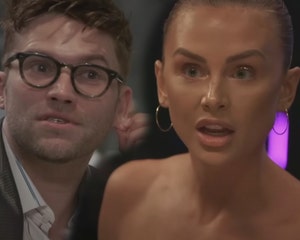 Lala Kent Confronts Tom Schwartz Over Friendship with Randall Emmett on Vanderpump Rules Premiere
Source: Read Full Article