Will Smith and Janet Hubert Reconcile During Fresh Prince Reunion: "You're Still My Aunt Viv"
11/19/2020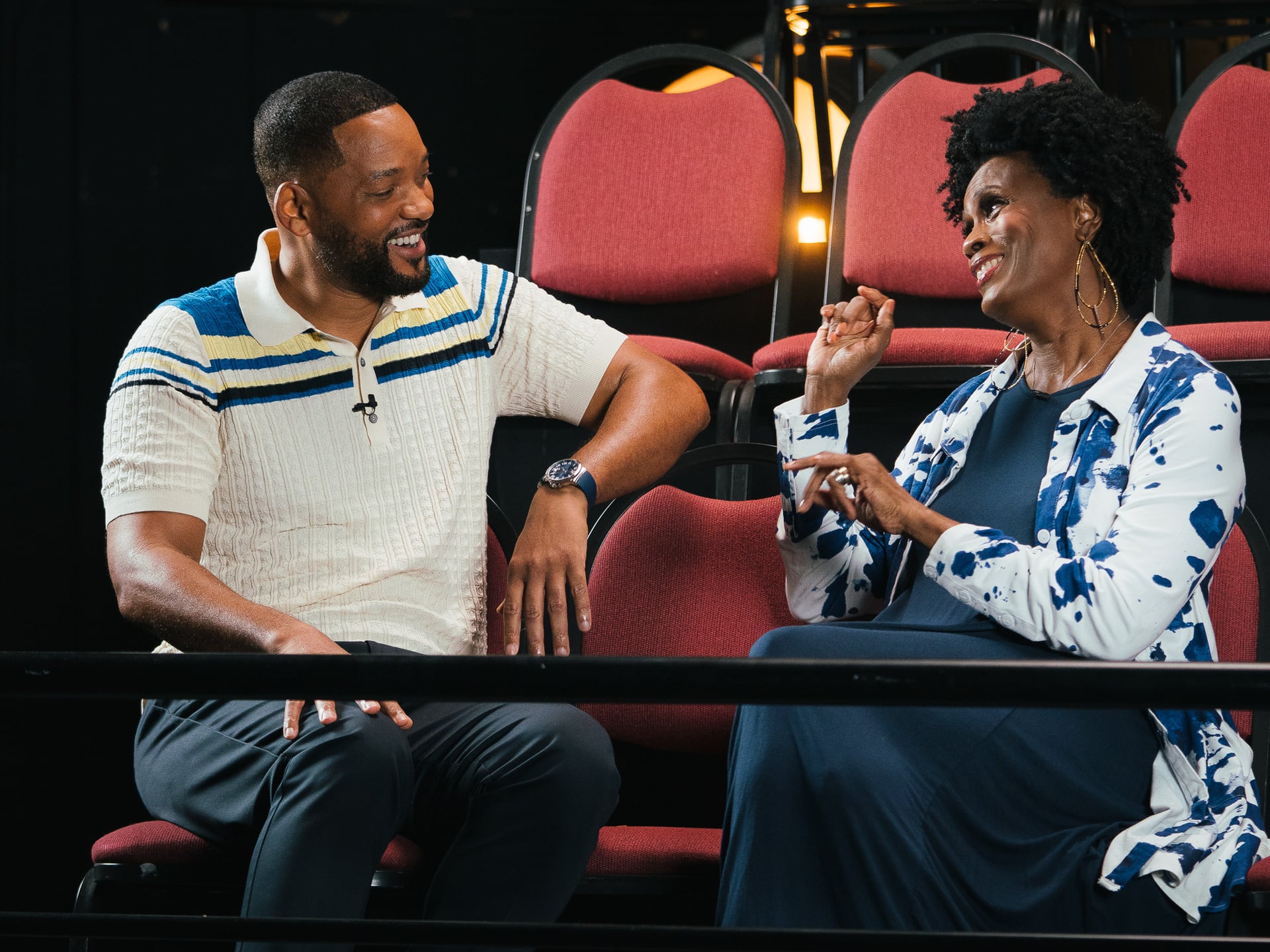 It finally happened, everyone: Will Smith and Janet Hubert have reconciled. On Nov. 18, HBO Max dropped The Fresh Prince of Bel-Air's reunion special, which united former castmates Will Smith, Tatyana Ali, Karyn Parsons, Joseph Marcell, Daphne Maxwell Reid, Alfonso Ribeiro, and DJ Jazzy Jeff. During the gathering, the group reminisced on their best-loved scenes, off-camera moments, and their favorite memories of late costar James Avery. But the main event, of course, was Smith and Hubert's sit-down conversation and moment of resolution.
It's no secret that Hubert's 1993 departure from The Fresh Prince of Bel-Air wasn't amicable. During the reunion special, she opened up about everything that led up to her decision to leave the show. "Something I would like to clarify is during that third season when I got pregnant, there was a lot of things going on in my life and Will's life as well," she said. "There was some friction because I was pregnant. Home life was not good at all. I was no longer laughing, smiling, joking because there were things that going on that nobody knew about. The cast had no idea what was going on."
Smith, who said he felt everything was a threat to him back then, acknowledged his wrongdoings, saying, "During that time of her pregnancy, I wasn't sensitive, I wasn't perceptive. Now that I've had three kids, I've learned some things that I did not know at the time, and I would do things very differently." He then admitted to cultivating a complicated work environment for Hubert.
Hubert described feeling "banished" from the rest of the Fresh Prince cast and finally left after the network slighted her with a substandard contract. Under the new restrictive agreement, she would only work about two months out of the year, which meant a lower salary, and she couldn't accept other jobs outside of working on the series. Hubert chose to decline the offer, which caused her family and Hollywood to disown her.
"You took all that away from me with your words," she told Smith. "Words can kill. I lost everything. Reputation. Everything, everything. I understand you were able to move forward. But you know those words, calling a Black woman 'difficult' in Hollywood is the kiss of death. It's the kiss of death, and it's hard enough being a dark-skinned Black woman in this business, but I felt it was necessary for us to finally move forward." They ended the conversation with apologies and Smith declaring, "The person I want to be is someone who protects you, not someone that unleashes dogs on you . . . You're still my Aunt Viv."
Hubert then joined the rest of the cast and met Daphne Maxwell Reid — who took over as Aunt Viv from seasons four to six — for the first time. "Seeing Daphne and Janet, my two moms, the two Aunt Vivs come together — and they've never met before — seeing them meet for the first time and embrace was the most incredible thing," Parsons said.
Source: Read Full Article