The Daily Telegraph Is Counting People With Fake Email Addresses As Its "Registered Users"
08/02/2019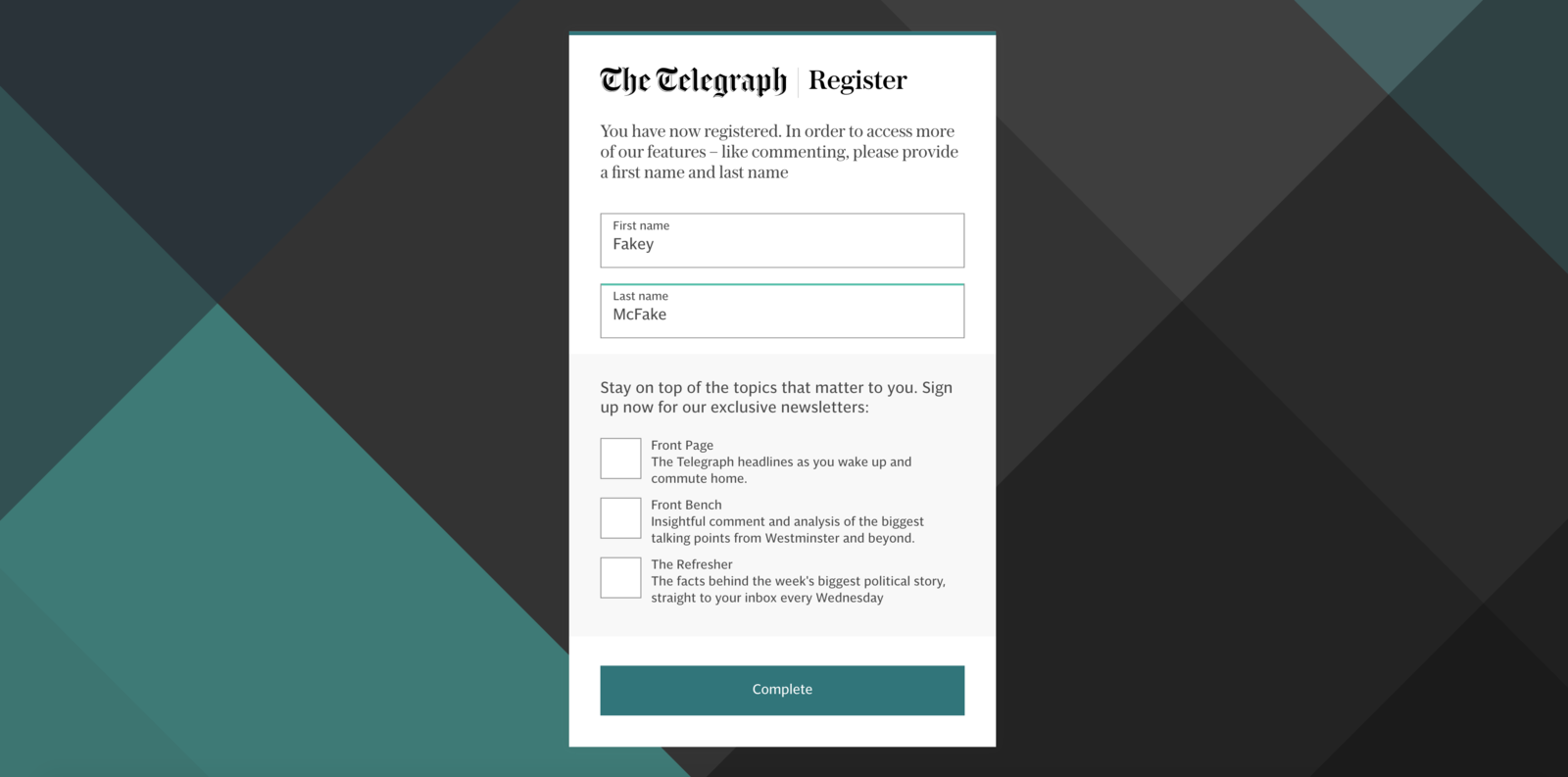 When he took over as CEO of Britain's Daily Telegraph in 2017, Nick Hugh laid out ambitious plans involving a strategic pivot for a pro-Brexit newspaper that was facing plummeting circulation.
The former Yahoo and BT executive's mission, he said, was to focus the 164-year-old publication not on selling papers, or counting subscribers, clicks, and views, but rather to accumulate 10 million "registered users" online as soon as possible.
"Registration is the tide that lifts all boats," Hugh told the Financial Times in December of that year.
Hugh made the case that "being able to understand who your users are" was a vital ingredient for success. "A registered reader — as opposed to an anonymous one — is far more valuable to the business than the vast majority of our audience as it stands now," he declared — a line that later appeared verbatim in the Telegraph's corporate "Vision" displayed prominently on the company's website.
Since then, Hugh has repeatedly talked up the Telegraph's progress – positioning the number of "registered users" (or "registered customers") as the yardstick by which the publication's fortunes should be judged. Last August, in a rare tweet, he announced that they had hit their 2018 target of 3 million registrations.
But BuzzFeed News can reveal that the Telegraph makes no attempt to authenticate the email addresses used in the registration by asking the user to confirm in a follow-up email. That raises serious questions over how many of Hugh's much-vaunted registered users are legitimate.
Like many other premium news websites, visitors to the Telegraph.co.uk hit a paywall when they visit an article. To access it, they're asked to register with an email address and a password to become a registered user.
We created more than a dozen registered user accounts with fake emails ⁠— each one was accepted as a registered user with no questions asked and has continued to give access to the Telegraph website over a period of several weeks. Among others, names like 'Fakey McFake' tied to the email [email protected] and 'I'm Not Real Won't Have To Verify Either' with the email address [email protected]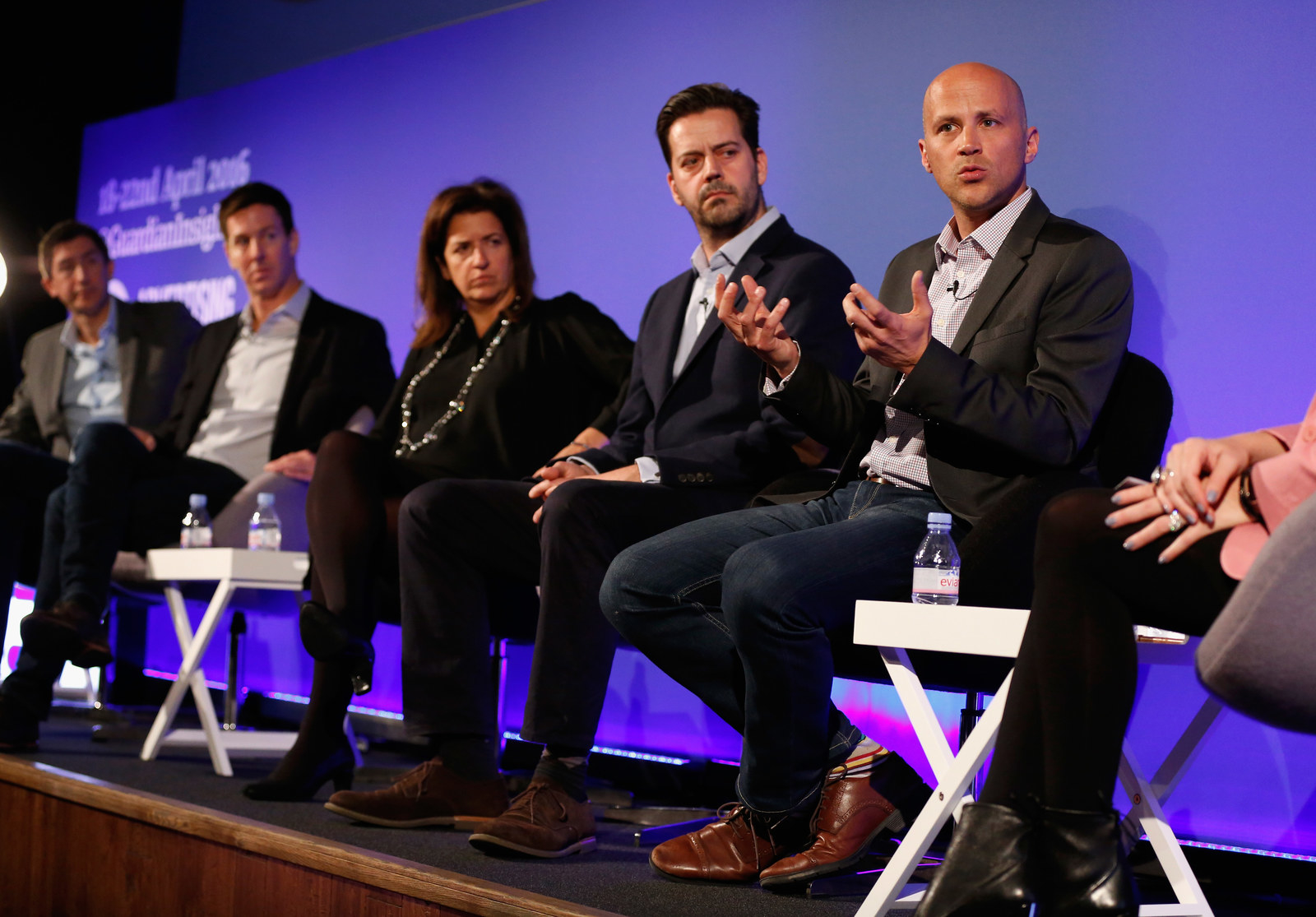 Nick Hugh (right) while attending a marketing conference in 2016.
A Telegraph spokesperson admitted the publication doesn't check whether their registered users have real email addresses.
"As a subscription-first business, registration is the first step on the way to becoming a subscriber," they said in a statement in response to a series of questions.
"In order to create a smooth registration experience, The Telegraph does not authenticate email addresses at the first point of entry, instead the email database is routinely reviewed for any inaccuracies."
But BuzzFeed News spoke to several experts and industry insiders at similar mainstream publications who said it wasn't a normal practice to count unauthenticated email addresses as "registered users". None said they had seen anything like it before.
Brian O'Kelley, the founder of digital ad-exchange AppNexus, who was once called the "King of AdTech" by Forbes magazine, told BuzzFeed News over email: "I haven't seen this behaviour elsewhere.
"It's very surprising if they don't do a simple verification process: 'We just sent you an email / text, please click on it to validate your email'."
"I'm sure they see a lot of drop-off in visits if they validate, which of course costs them ad revenue.
"That said, using unvalidated email numbers in any way as 'registered' would be ridiculous."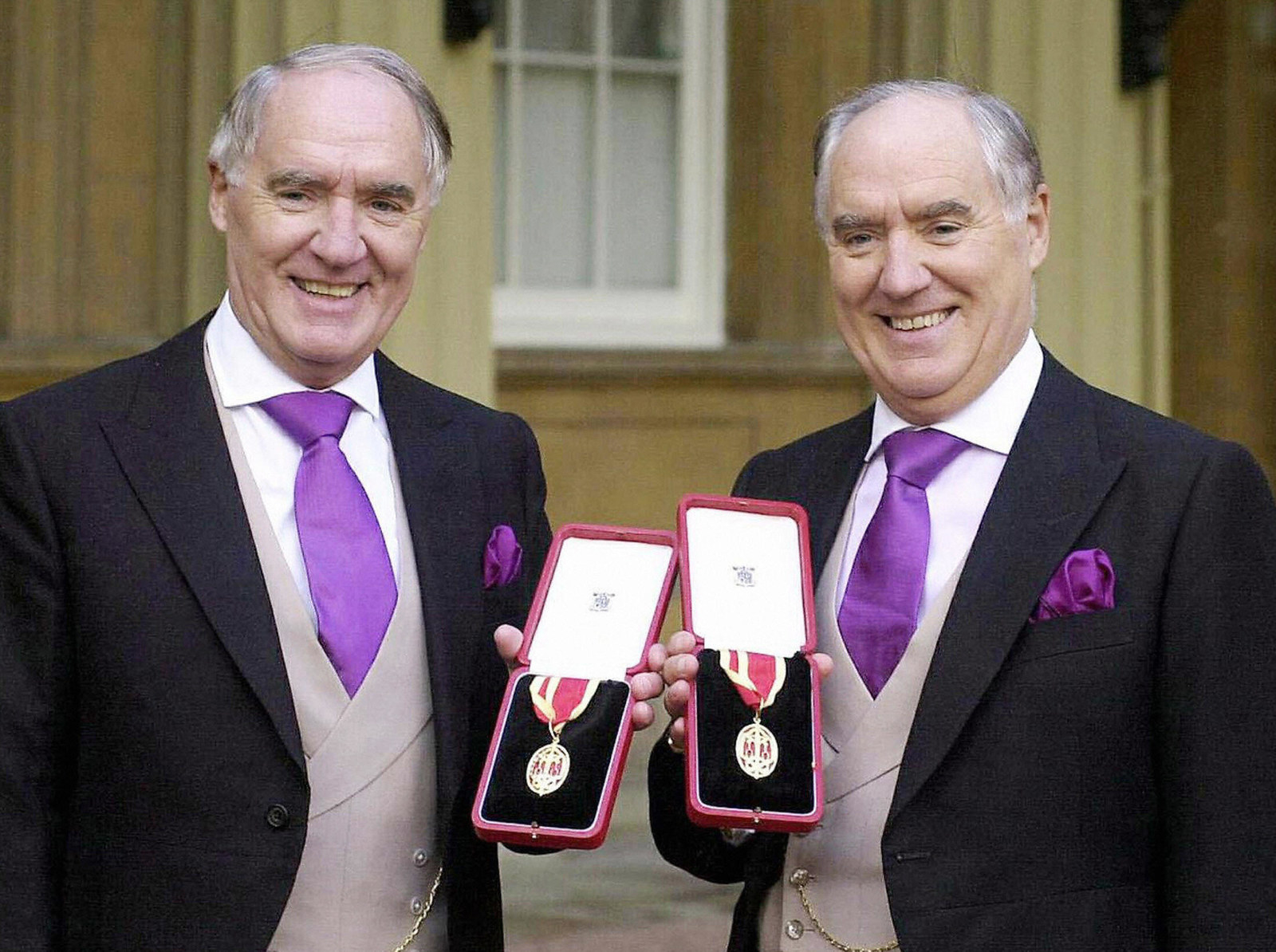 Sir David Barclay and his twin brother Sir Frederick posing after receiving their knighthoods from the Queen at Buckingham Palace in 2000.
The Daily Telegraph — nicknamed The Torygraph for its conservative values views and status among the party's traditional -base – is owned by the Barclay brothers, the billionaire twins whose property, media and retailing fortune was this year valued at £8 billion by the Sunday Times Rich List.
Since buying the paper for £665 million in 2004, the twins have faced repeated criticism for the way they've run it. In 2008, a memo written by the eminent former Telegraph editor Bill Deedes was published referring to the new management as a "stinking mob," who were taking the title downmarket after cuts.
There have been huge victories for its journalism, like the MPs's expenses scandal in 2009) and its "Football for Sale" sting in 2016), but there have also been hits to the editorial credibility of the newspaper. In 2015, chief political commentator Peter Oborne resigned over what he claimed was the Telegraph's deliberate suppression of negative stories about HSBC bank because it was a major advertiser.
Last year, the Times reported the Barclay brothers had continued to write down the value of the newspaper group, while also taking a hefty dividend for themselves. This year, the news group's profits were halved as newspaper circulation plummeted.
It's led to buyers reportedly circling. According to the FT, the Russian owner of the Independent and Evening Standard, Evgeny Lebedev, and another Fleet Street consortium came knocking in 2016. Amazon founder and Washington Post owner Jeff Bezos' name has also been floated several times as someone who could be interested in the paper. The twins continue to say the newspaper is not for sale.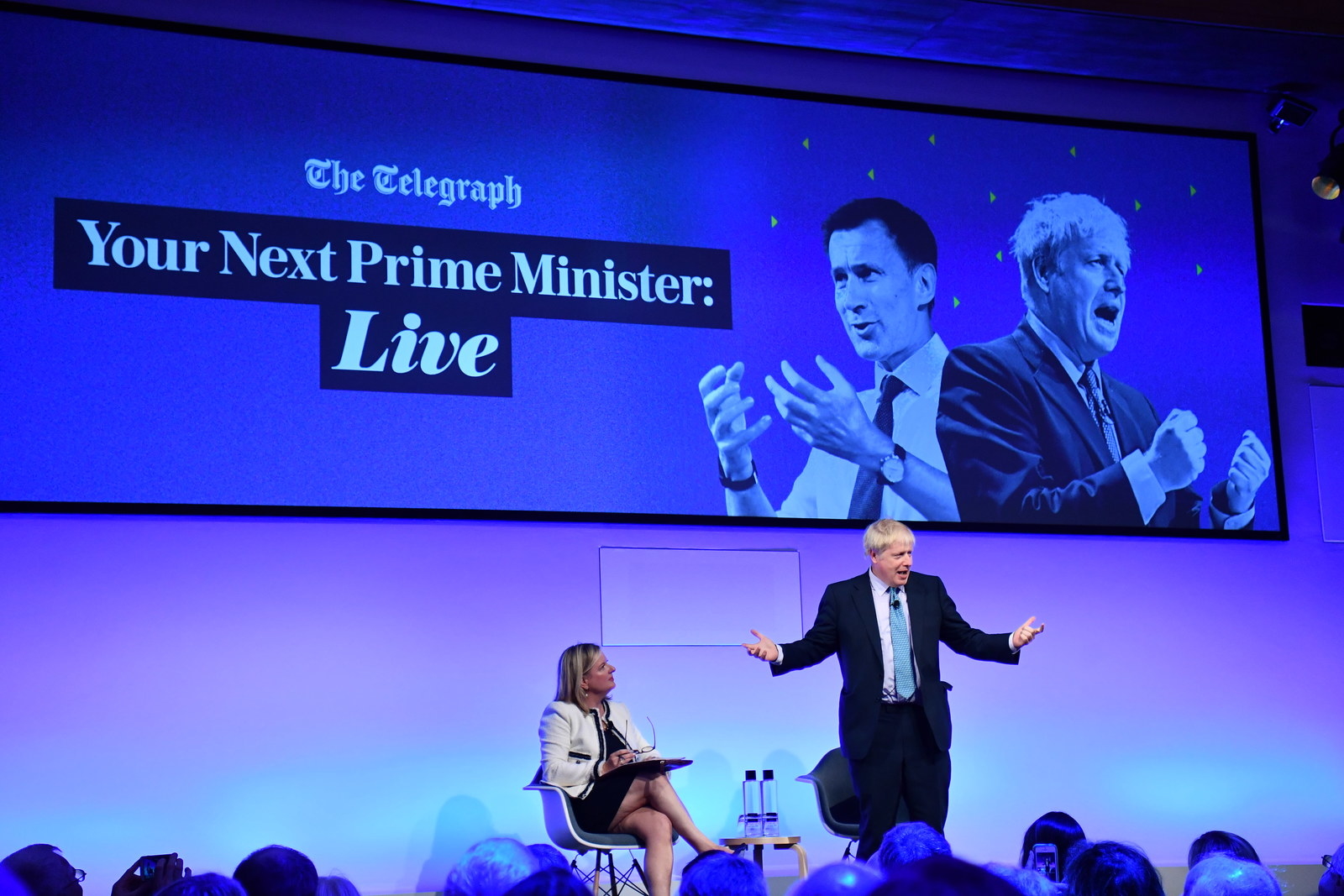 Boris Johnson addresses the Daily Telegraph readers during the Conservative Party leadership race this year.
The Telegraph has also been hit harder than most by the industry-wide crash in newspaper circulation. According to ABC Newsbrand data, at the start of 2000, the Telegraph was averaging more than one million copies per day – easily the highest circulating UK broadsheet newspaper in its category. By 2017 – the year new CEO Nick Hugh took over – the publication's circulation had more than halved to 484,000.
A year later, it was 371,000 – much of which was due to Hugh's strategic decision to end the process of handing out free copies, knowns as bulks, at places like events and airports, which the CEO said came to 67,000 copies a day. ABC's most recent survey shows the Telegraph's daily circulation had slid even further to 327,000.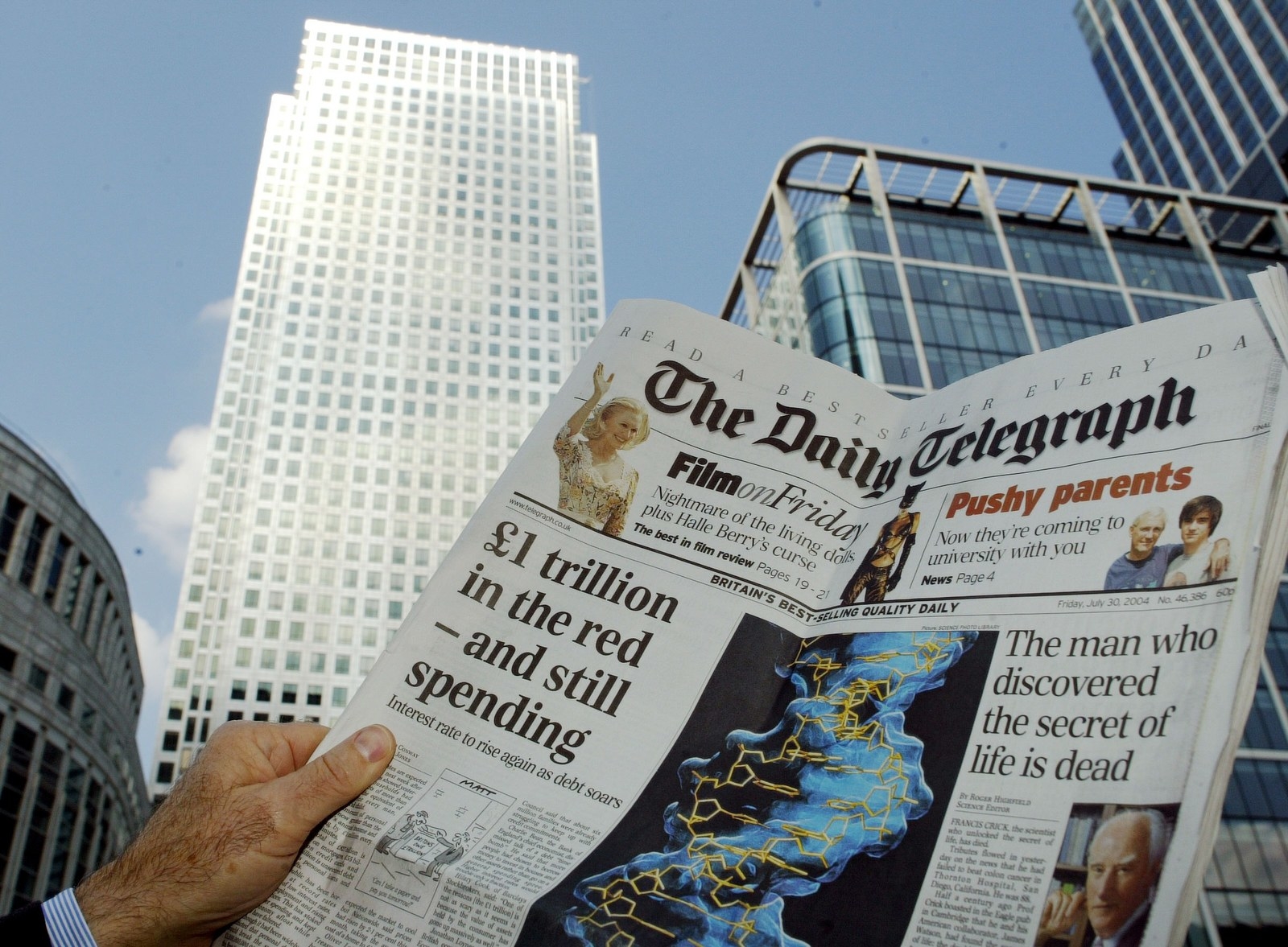 Commuter reads a copy of the Daily Telegraph in front of the their offices in 2004.
Douglas McCabe from Enders Analysis told BuzzFeed News Hugh's arrival had brought a "radical shift" in its effort to get digital readers in the face of these problems with the paper's finances and circulation.
But when asked about the Telegraph's push into a "registration-first" strategy, McCabe warned of a premium title courting a mass audience.
"Nick Hugh's approach is a radical shift from where the Telegraph was going: a pivot to an online subscription model that will require considerable investment in the near and medium term — investment in technology, data analytics and journalism itself — all of which will have a material impact on profitability.
"So, for example, premium content subscription services should not be excessively focused on mass market audience acquisition. Such an approach makes the conversion to long-term loyal subscribers more complicated (and would be a distraction for journalists). The focus should be on relentlessly serving a narrower core audience (a few million people) with the content and services that audience specifically desires from the media brand.
"Loyal users are the only people that should be tracked, not random visitors."
Hugh has shrugged off the newspaper's circulation nose-dive by giving an up-beat interview to The Drum about its success with registered users: "I am positively amazed at our progress," calling it both a "truly fantastic achievement" and an "incredible milestone".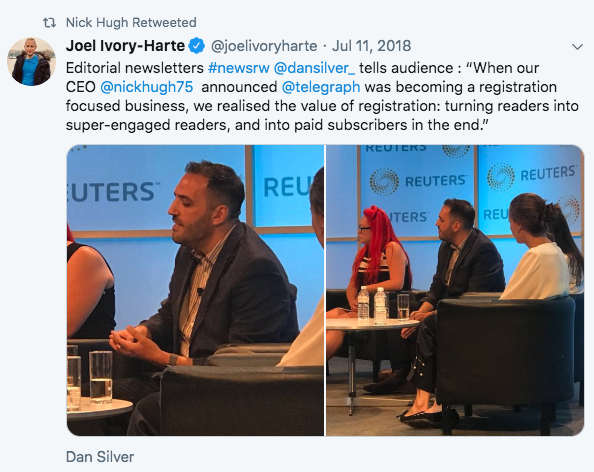 A senior source at a major US publication in charge of reader strategy, who spoke to BuzzFeed News on the condition of anonymity, called the Telegraph's approach "bizarre".
"The simple reason for a registration strategy is to get readers' email addresses in order to market things to them; products, the store, and especially subscriptions," they said.
"If they're not authenticating the registered users by sending them an email, and getting them to click-through to confirm, how many of them are real people would be a complete mystery. Why have someone go through this process if you're not going to use it to drive subscriptions?"
The Daily Telegraph still gets information about who arrives on its website ⁠— through the use of cookies ⁠— which can be used in advertising and marketing. But the source said not verifying registered users was an "oversight".
"I mean, it looks a pretty blatant technical oversight. Regardless, in this business, it's just not efficient, like at all."
One Telegraph insider had a more blunt assessment. "They don't verify the email addresses, so you've got readers jamming in random names to get access behind the paywall," they told BuzzFeed News.
"What, then you have the hide to count them as your valued readers?"
"It's like they're the CEO of McDonalds admitting they put dog food in the burgers, 'I mean yes, our central business proposition is shit, and that is a problem.'"
More on this
Here's What Welcomed Daily Telegraph Journalists To Their Offices Today

Mark Di Stefano · July 25, 2019
Mark Di Stefano is a media and politics correspondent for BuzzFeed News and is based in London.
Contact Mark Di Stefano at [email protected]
Got a confidential tip? Submit it here.
Source: Read Full Article