Dominic Calvert-Lewin on Fashion, Confidence and England at Euro 2020
06/18/2021
Golden Generation is a new series showcasing how footballers are making change off the pitch. Now more than ever, players are blurring the boundaries between football, music, fashion and politics. This new generation of footballers are more than just athletes: they have become role models with a passion and a purpose. The era of "stick to football" is over.
---
While the rest of the Premier League set off for beach getaways during the league's first ever winter break last season, Everton and England striker Dominic Calvert-Lewin took the chance to attend New York Fashion Week, an event he'd been dreaming about attending since he was a kid.
"I'd always wanted to go to a fashion show, but had never had the opportunity," he tells HYPEBEAST. "As soon as we knew we had the dates off we booked it. It was pretty spontaneous and, to be honest, we didn't really have a plan".
Images of Calvert-Lewin, accompanied by his Everton team mate Tom Davies, soon began to circulate online, after they were spotted dressed head-to-toe in Gucci on the way back from a Michael Kors show.
"We were just away, like everyone else was in that winter break, but it somehow found its way on to the TV," he says. "I think that was the first time people saw that we weren't afraid to do what we wanted to do and be who we want to be."
If such a thing as a "typical" footballer exists, Calvert-Lewin isn't it. While he and Davies aren't the first footballers to take an interest in fashion — Hector Bellerin and Marcus Rashford are just two of the more recent players to enter that sphere — Calvert-Lewin's natural eye for style is why he's his own stylist too.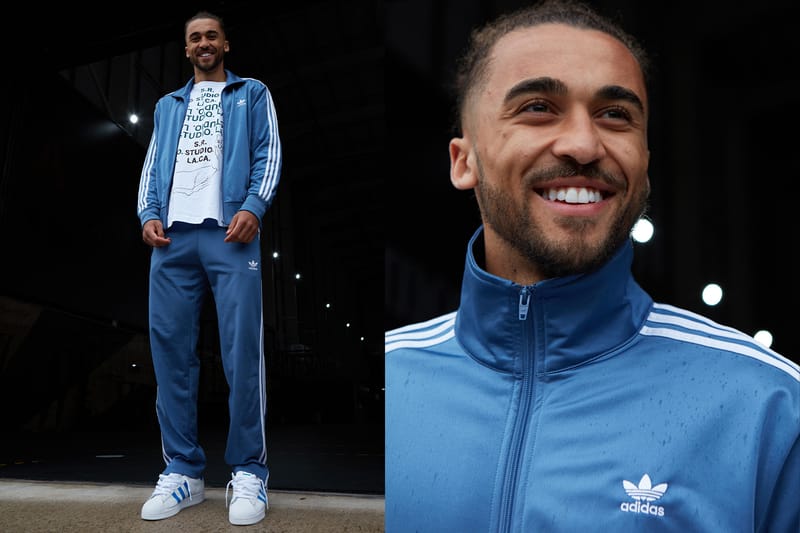 Adidas
His newly-found reputation as a well-dressed footballer has coincided with an improvement on the pitch. Since his move to Everton in 2016 as an inexperienced 19-year-old, he's gone on to become a permanent fixture in an improving side, most notably over the last few years under the guise of recently-departed manager Carlo Ancelotti. This improvement also saw him earn his first senior England call-up late last year, in which he also scored his first international goal in a 3-0 victory over Wales.
It's one success within Calvert-Lewin's most prolific campaign yet. With 21 goals across all competitions for Everton — alongside 4 in 7 for England — it was a season he himself knew could be career-defining at this stage in his career. Although he finished the campaign as the third highest scoring Englishmen in the Premier League, he admits that playing in front of empty stadiums as a result of COVID restrictions did make things a little trickier.
"It was like playing friendly games to start off with, but we got used to it in the end," he explains. "I've missed celebrating goals in a stadium full of fans. That's been the only shame this season that I've scored so many, but not had a stadium to share it with".
"As I've become more successful on the pitch, it's given me the confidence to be more flamboyant with my clothes off it".
Such was his form in front of goal in the early part of 2020, the striker was handed his first international call-up by Gareth Soutgate in October last year. "I thought I was in with a chance of getting into the team, but when I got the call-up it was more about my family's emotions," he says. "When I told my mum and dad they both went mad, that was the nicest thing for me. For me though, I took it in my stride because it's where I think I'm supposed to be. I felt like it's where I belong".
The acknowledgment has given the player a newly-found sense of self-belief — which is manifesting in his off-duty life, too. "As I've become more successful on the pitch it's given me the confidence to be more flamboyant with my clothes off it," he says. "The lads in the changing room always used to ask what I was wearing, and I've always found it quite funny. It's just who I am now. I still get little remarks and things like that if I'm wearing something particularly flair, but now people respect it because I'm just being true to who I am, and I'm being different. Plus, I can get away with a lot more now, because I've been doing it for so long, it just becomes more normal".
While he only recently gained the confidence to wear more outlandish garments — whether that's his Gucci tracksuit or his "Camel" Burberry suit and matching beanie — his love for fashion as a whole goes back a lot further. "My dad was always into nice clothes when I was growing up," he says. "He loved Vivienne Westwood shirts and would pass down the ones that didn't fit him anymore — that was my first taste of designer wear".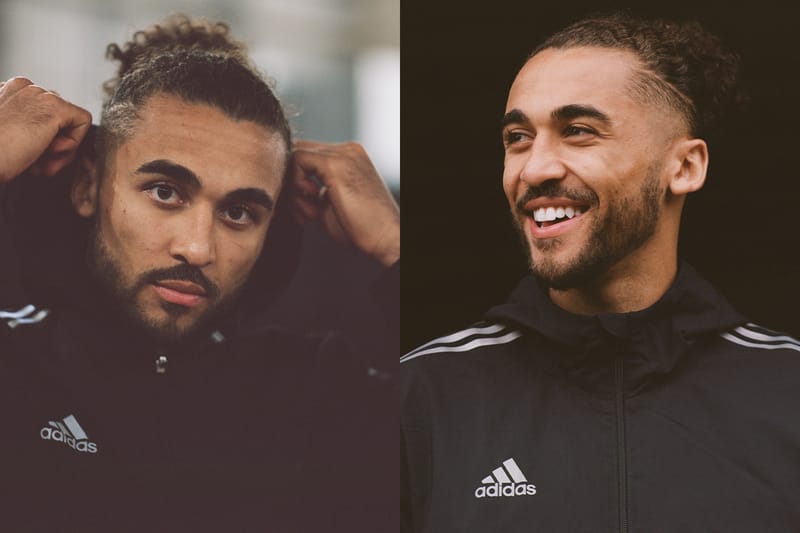 Adidas
"At school, I was always wearing adidas Superstars," he continues. "I had the classic white ones, the black ones and a multi-colored pair, but whenever it was my birthday or Christmas it's kind of all I wanted".
In the early days of his career, Calvert-Lewin admits to having been susceptible to the cliches of 'footballer dressing': piling himself in head-to-toe designer clothes as a means of showing off his newly-acquired wealth. Thankfully, it was a short-lived phase. Now, he's learned to streamline: Rat-Pack inspired suits, Celine loafers, and minimal pieces from the likes of Burberry and Nanushka.
"I always used to be quite simple with what I wore — it used to be all black, white and grey — but I learned to play around with it more," he says. "I've recently branched out and I like to wear more upcoming British brands and designers." The London-based designer Martine Rose, he says, is a particular favorite.
His newly found confidence — and continued success — saw Calvert-Lewin included in England's 26-man squad for Euro 2020 where he subsequently featured as a last minute substitute in the team's opening win against Croatia. Although not a guaranteed starter, Calvert-Lewin is still keen to make his mark at this summer's tournament. "The Euros will be a new experience for me in a squad full of talented players, and a healthy mix of experience and youth," he says. "It's an exciting time to be an England player and I want to make an impact. We're going into it to win it".
Source: Read Full Article