Tom Hanks Crashes Same-Sex Couples Wedding Because Its One of the Most Beautiful Hes Ever Seen
10/28/2021
Dressing casually in a jacket, short pants and sneakers, the 'Cast Away' actor approaches the brides as the ceremony is wrapping up to take pictures with them.
AceShowbiz –Tom Hanks has witnessed "one of the most beautiful" weddings and he couldn't miss the chance to capture the moment. The Oscar-winning actor crashed a couple's nuptials in Southern California over the weekend to take pictures with them because it was "one of the most beautiful" ceremonies he's ever seen.
Diciembre and Tashia Farries tied the knot on a Santa Monica beach with their families and their one-year-old son in attendance when Tom happened to be at the same place. He watched them from afar and as the seaside ceremony was wrapping up, he approached the couple.
"Everyone is saying, 'There's Tom Hanks!' " Tashia recounted in an interview, adding that she and Diciembre were shocked to see the actor. In a video of the moment, the 65-year-old star seemed to be particularly tickled to learn that the pair were both brides. "Oh get out!" he shouted. "My stock just exploded!"
As to why Tom decided to approach them, Tashia recalled what he told them, "He said, 'I saw the ceremony from back there and it had to be one of the most beautiful ceremonies that I've ever seen."
And so Tom took pictures with the newlyweds and their child, who looked cute in a burgundy suit. The "Sully" star dressed down in a gray jacket and dark short pants with dark gray sneakers. Tashia, who works as a celebrity chef, donned a black suit with a burgundy tie, while Diciembre was stunning in a white dress with a long train.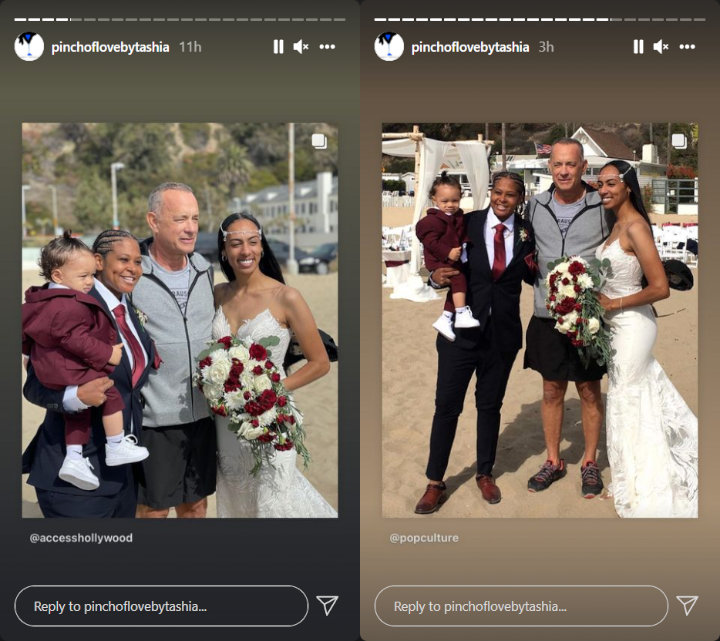 Tom Hanks crashed a couple's wedding in Santa Monica.
"Our wedding was already a dream to me," Diciembre said of how Tom's surprise appearance made the day extra special. "To finally marry her – this was our day. And everybody we love was there, and… Tom Hanks just walks up! Out of all days, out of all people, he walked on the beach today. It was meant [to be]."
For Diciembre and her family, Tom's presence was more like fate as they learned that her late brother, whose portrait was propped up on a chair with the rest of the family, shared the same birthday as Tom. "So he wasn't at the wedding, but Tom Hanks coming was his way of saying he was here," she said.
Source: Read Full Article