Tinsley Mortimer of RHONY feeds her dogs shrimp cocktail three times a day
12/21/2021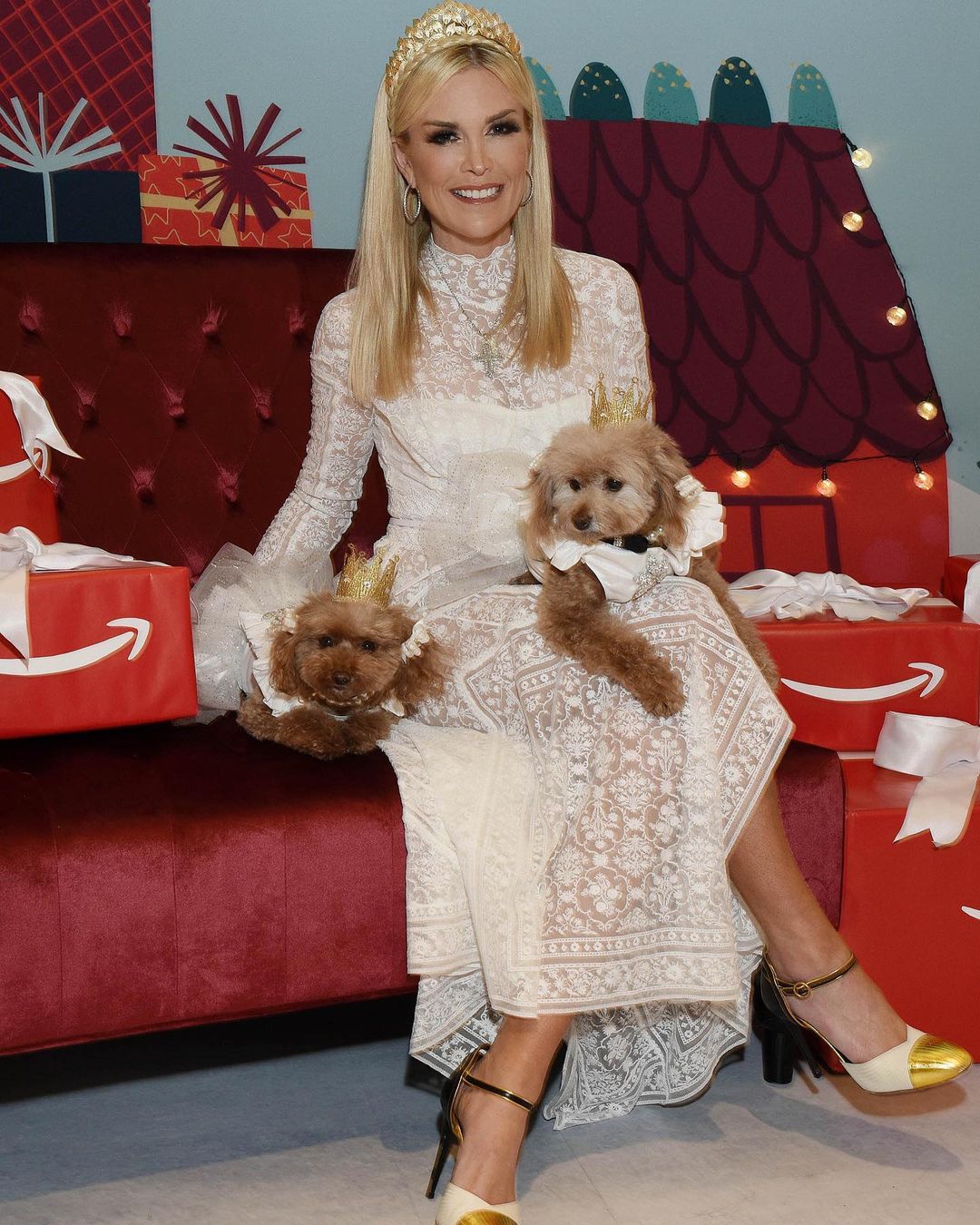 Tinsley Mortimer, 46, of the Real Housewives of New York has two adorable little poodles named Strawberry and Shortcake. She dresses them in little doggie versions of whatever she's wearing, calls them her babies, and compared adopting them to giving birth. Tinsley rescued Strawberry and Shortcake from the dog meat trade n China in the summer of 2019. Those dogs have lived a charmed life since. Tinsley talked so much about her dogs in her "25 Things You Don't Know About" piece for US Magazine. The thing that surprised me the most is that she feeds them shrimp cocktail three times a day! I thought shrimp should only be a treat for dogs, but these two get it for every meal. Here's more of her 25 Things:
My rescue dogs Strawberry and Shortcake, who I adopted from China, are my life.

I'm a member of the Colonial Dames of America.

I sleep with eye makeup on every night, including my lashes that I created with Winky Lux called XXO Tinsley.

I can't stand flipflops. When I see them I actually feel angry.

I don't drive. My mom [Dale Mercer] or sister [Dabney Mercer] drive me everywhere, or else I take an Uber.

I only take baths — never showers!

I use Old Spice deodorant.

I feed Strawberry and Shortcake jumbo shrimp cocktail (with no sauce!) three times a day.
[From US Magazine, print edition, December 27, 2021]
The "Colonial Dames" nonsense made my spidey sense tingle so I googled her, since so many of these real housewives have been openly racist. I couldn't find anything about her saying or doing anything problematic or I might not have covered this story. According to my friend Briana who watches RHONY, Tinsley is "pretty boring and safe as far as housewives go." My friend April loves her! She wrote that Tinsley "had the older housewives in a major tizzy (especially Dorinda) because she's a real socialite, living in hotels without a care in the world. Her choice in men (Scott) is questionable but hey everyone wants love."
I also wanted to see if it's safe to feed dogs shrimp three times a day! My mom has a miniature schnauzer and you have to be careful not to give them food with too much fat or cholesterol in it, but of course these are poodles. Shrimp are actually low in fat and have a lot of nutrients but they're high in cholesterol. The American Kennel Club warns that too much shrimp in a dog's diet can lead to cholesterol build up. Plus of course the shrimp have to be cooked and deveined with the tails removed. Dogs can also be allergic to shrimp. For now it seems like Strawberry and Shortcake are doing fine and it's obvious they're loved and completely spoiled! I really enjoyed looking through Tinsley's Instagram and seeing photos of those sweet little dogs.
Hecate works with a dog rescue organization in Los Angeles called The Dove Project. You can learn more about their work on their website and Instagram.
https://www.instagram.com/p/CBs9Op3jYK5/
A post shared by tinsleymortimer (@tinsleymortimer)
https://www.instagram.com/p/CMF8n7gDMLv/
A post shared by tinsleymortimer (@tinsleymortimer)
https://www.instagram.com/p/CESpM0EDnga/
A post shared by tinsleymortimer (@tinsleymortimer)
photos via Instagram
Source: Read Full Article