The Royal Family Is Opening Up About Their Heartbreak After Prince Philips Death
09/12/2021
Prince Philip died on April 9, 2021 at the age of 99, according to the BBC. Buckingham Palace issued a statement that read, "It is with deep sorrow that Her Majesty The Queen announces the death of her beloved husband. The Royal Family join with people around the world in mourning his loss."
Philip's death was particularly poignant for Queen Elizabeth II, and royal correspondent Nicholas Witchell said that his death was sad for the country but "most particularly, for the Queen losing her husband of 73 years – a bigger span of years than most of us can imagine." Witchell spoke of Philip's support of his wife and her reign, saying, "It was the importance of the solidity of that relationship, of their marriage, that was so crucial to the success of her reign," according to the BBC.
In light of their collective grief, the royal family has agreed to a BBC documentary about the late prince to openly share their heartbreak. Here's that story.
The royal family expresses their grief in groundbreaking documentary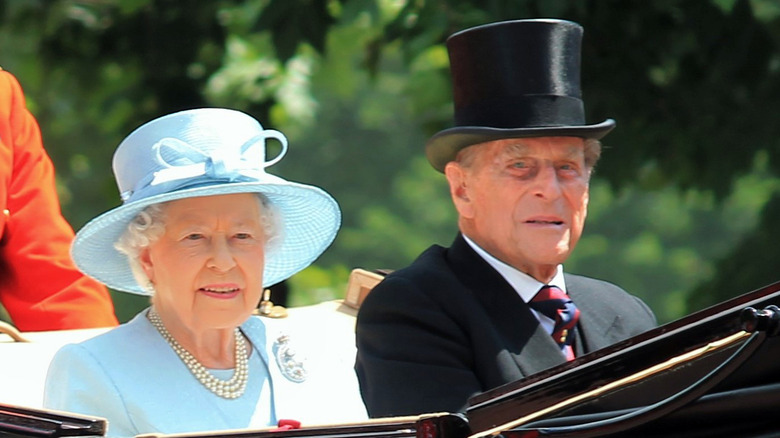 To commemorate the death of Prince Philip, Queen Elizabeth II has granted the BBC access "to her private cine-film collection, including unseen footage," the Daily Mail reported. The BBC will use this, along with intimate interviews with senior members of the royal family, to create the documentary "Prince Philip: The Royal Family Remembers," which will be broadcast on September 22.
As the BBC itself explains, the documentary will feature the queen and her four children, whom she shared with Philip, as well some of their grandchildren, including Prince William, Prince Harry, and Zara Tindall. The queen will not be interviewed; however, she is present in much of the archival footage.
Interestingly, neither Meghan Markle nor Kate Middleton will appear in the documentary. As the Daily Mail reported, the BBC did not respond to queries as to why the two wives will be absent from the feature. The hour-long documentary was initially planned to celebrate Philip's 100th birthday, the Daily Mail noted, but in light of his passing, it will instead be used to commemorate his life, offering the royal family a poignant chance to express their grief. In the trailer, Prince Charles says of his father, "We were lucky to have him for nearly 100 years."
Source: Read Full Article