King Charles Sees "Tremendous Flicker of Hope" in Mending His Tense Relationship with the Sussexes
09/27/2022
Looks like reconciliation could be in the works when it comes to King Charles's strained relationship with Prince Harry and Meghan Markle. A source tells The Telegraph that Charles saw "tremendous flickers of hope" while interacting with the Duke and Duchess of Sussex when they were in England following the Queen's death, which could finally put the royals' longstanding feud to bed.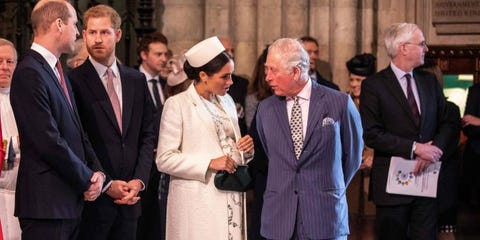 While this is obviously good news, there have been claims of tension behind the scenes—mostly in regards to Archie and Lilibet's royal titles. According to a recent report from The Times, Charles "hasn't decided" whether or not to allow his grandchildren to use their new titles, which is "heightening tensions" with the Sussexes who "fear the King may strip Archie and Lilibet of their titles."
Apparently, Charles and Harry had a "brief discussion" about the titles, during which the King asked his son if he wanted Archie and Lilibet to have HRH status (His/Her Royal Highness). Harry allegedly said he wants them to decide when they're older, but noted that his kids should be "allowed to retain their titles now." However, the conversation was unresolved, leaving the Sussexes "dismayed"—especially since Prince William and Kate Middleton's titles have been updated on the royal website, and Archie and Lilibet's haven't. As a source put it, "For [Buckingham Palace] not to make those changes suggests that something is off. Why not just change everything and do it in that moment?"
Here's to hoping Charles comes through with the titles!
Source: Read Full Article