Cara Delevingne reveals her sobriety journey, shes working a 12-step program
03/09/2023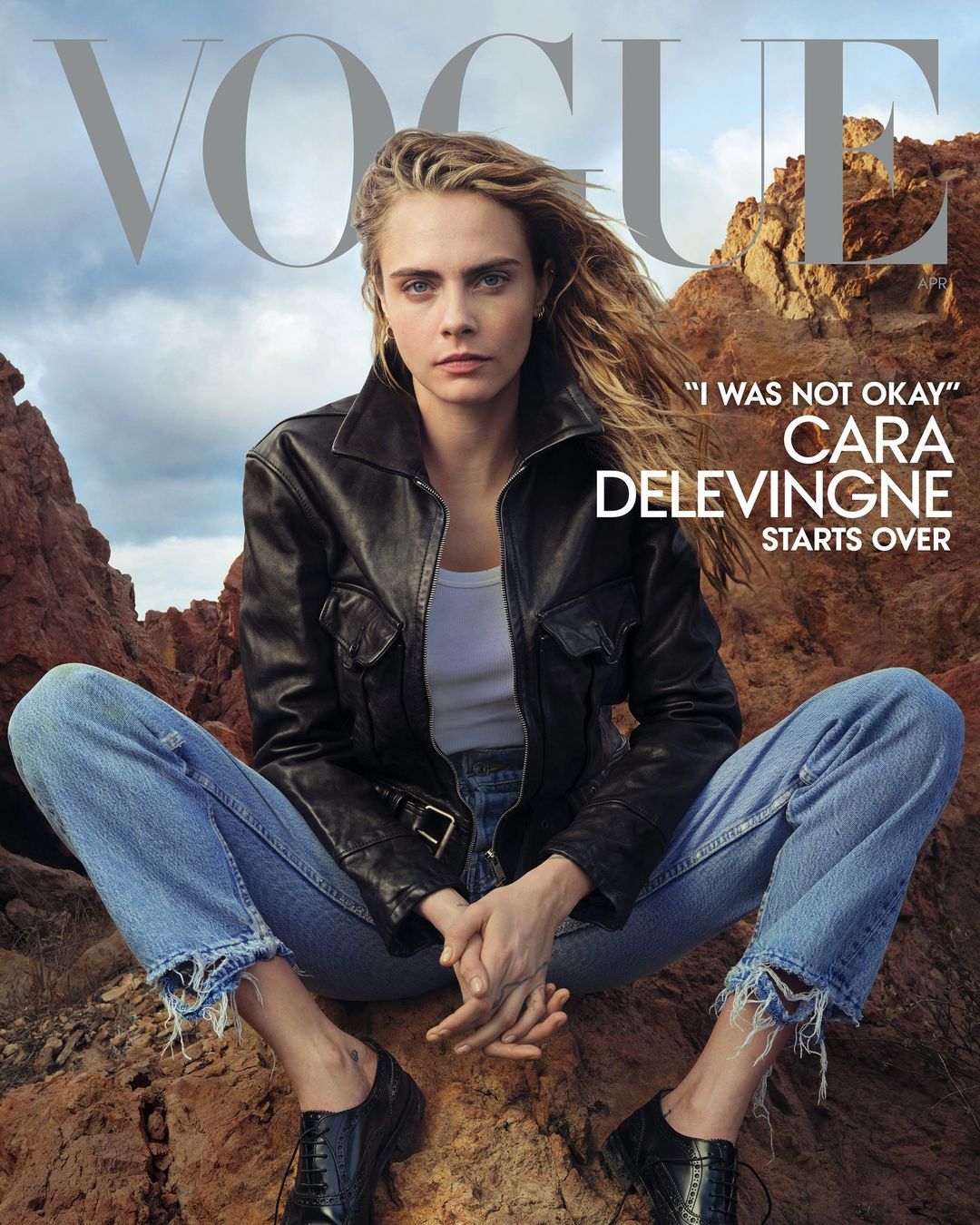 Cara Delevingne abused drugs and alcohol for years, and her addictions often spilled out in public. I remember covering her back when she was first making a name for herself as a model and she was openly carrying cocaine around. She was often the drunkest person at industry parties and she was usually the most strung-out on a red carpet. Last year, it felt like everything was coming to a head for her, like she was starting to hit rock bottom. In the past six months, a different Cara has emerged though – she sought treatment, she's working a 12-step program and she's been clean and sober for months. Now she covers the April issue of Vogue to talk about her sobriety journey and more. Some highlights from the cover story.
The turning point was being photographed returning from Burning Man last year: "I hadn't slept. I was not okay. It's heartbreaking because I thought I was having fun, but at some point it was like, Okay, I don't look well. You know, sometimes you need a reality check, so in a way those pictures were something to be grateful for."

Her chaotic but aristo family: "In a way, a lot of people have looked at my childhood or my family and thought, She's spoiled, there's nepotism, she grew up extremely privileged, which I did, don't get me wrong. But life wasn't all that easy for other reasons."

Everything fell apart in the pandemic: "In the beginning, I was living with people in this COVID bubble in LA. We thought it was going to be a weeklong thing, and so it was fun." She started her quarantine with Ashley Benson, her then ​girlfriend of almost two years. By April their relationship had ended. "And then I was alone, really alone…it was a low point."

She struggled to get out of bed. "I just had a complete existential crisis. All my sense of belonging, all my validation—my identity, everything—was so wrapped up in work. And when that was gone, I felt like I had no purpose. I just wasn't worth anything without work, and that was scary. Instead of taking the time to really learn something new or do something new, I got very wrapped up in misery, wallowing, and partying. It was a really sad time."

Self-destruction around her 30th birthday: "I always kind of knew that things were going to have to be different in my 30s, because the way that I was living was not sustainable…. There was this need for change, but I was fighting it so much. I was welcoming in this new time but I was also grieving. It was like a funeral for my previous life, a goodbye to an era. And so I decided I was going to party as hard as I could because this was the end."

After Burning Man, her friends rallied around her: "I have so many friends. They ride for me and I love my friends so much, but it felt like a lot of the time, they were shallow relationships only because I wasn't able to be honest about the things I was going through. I didn't want to burden anyone. It was also like, What if people leave? If you ask any of my friends, they would say they'd never seen me cry."

She started making positive changes last September: "From September, I just needed support. I needed to start reaching out. And my old friends I've known since I was 13, they all came over and we started crying. They looked at me and said, 'You deserve a chance to have joy.' "

Working a 12-step program. "Before I was always into the quick fix of healing, going to a weeklong retreat or to a course for trauma, say, and that helped for a minute, but it didn't ever really get to the nitty-gritty, the deeper stuff. This time I realized that 12-step treatment was the best thing, and it was about not being ashamed of that. The community made a huge difference. The opposite of addiction is connection, and I really found that in 12-step."
[From Vogue]
She also shares her dreams of freezing her eggs and becoming a mom at some point, and she wants to continue working as a model and actress. She has a lot of friends within the industry, and it was clear (last year) that they were trying to get her some help – I remember those photos of Margot Robbie crying as she left Cara's house, and I think a lot of people were trying to get through to her last year. I'm glad she's working a program and she's finding relief and joy in the structure of it. Because I think that's key for her – the chaotic hedonism of her life meant that she never had to change until she did, and she needs to build new systems. I'm glad she's being so open about this, it will help a lot of people.
https://www.instagram.com/p/Cph5nPguo6O/
Cover & IG courtesy of Vogue.
Source: Read Full Article