Blake Shelton Comes for Ariana Grande's Fans in 'The Voice' Bloopers
10/05/2021
In case you haven't noticed, Blake Shelton and Ariana Grande have a good natured rivalry happening over on The Voice, and they literally can't stop trolling each other. Even when they're taking breaks from filming.
The Voice just released a bunch of bloopers / outtakes from the first weeks on set, which mostly feature Blake coming for Ariana and her fans (HOW DARE HE). While chatting about the name of Ariana's massive fan base, Blake mused "What are your fan clubbers called? Piranhianas?" He then ignored everyone correcting him—including Ari who looked all kinds of alarmed—and told the audience, "I call you Piranhianas."
Literally Ari's face: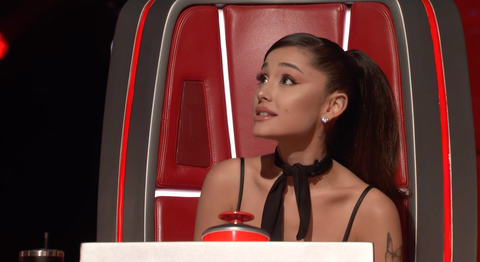 Elsewhere in the outtakes, Blake can be found complaining to the camera while Ariana pretty much ignores him, saying "You had stuff to say did you, Ariana? Well lemme tell you. I know that Ariana had her comments a moment ago. That's fine. Bring it on Ari. HAH! Okay?! OKAY!"
The good news is that Ariana informed Blake that she fully stans him and former Voice coach Gwen Stefani, and is specifically here for their shipper name "Shefani." So. At least there's that.
Anyyyyyyway, watch the outtakes above, and please don't forget that Blake recently texted Ariana an article headlined "Producers at 'The Voice' May Replace Blake Shelton After Ariana Grande Brings a 'Fresh' Energy" and mused, "Thanks a lot, Ari…thanks a fuckin' lot."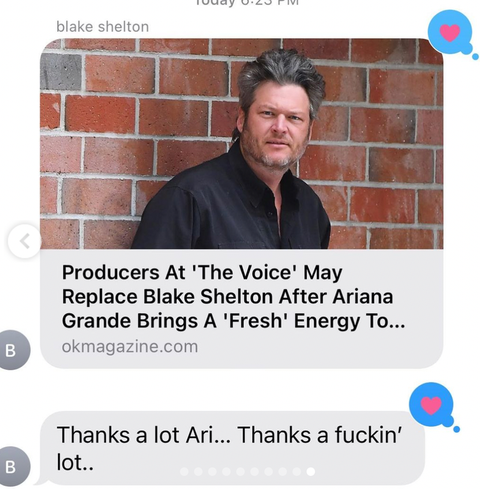 Sheliana forever tbh.
Source: Read Full Article